Binding Machines (Document Paper Binder)
Binding machines can be used for a variety of things. Folks in the business arena are not the only ones privy to the benefits of a good binding paper machine, although the machine does come in handy when creating presentations, client proposals, brochures, and annual reports. Students can also use a document binder to make study guides, reports, art projects, calendars, and presentations of their own variety.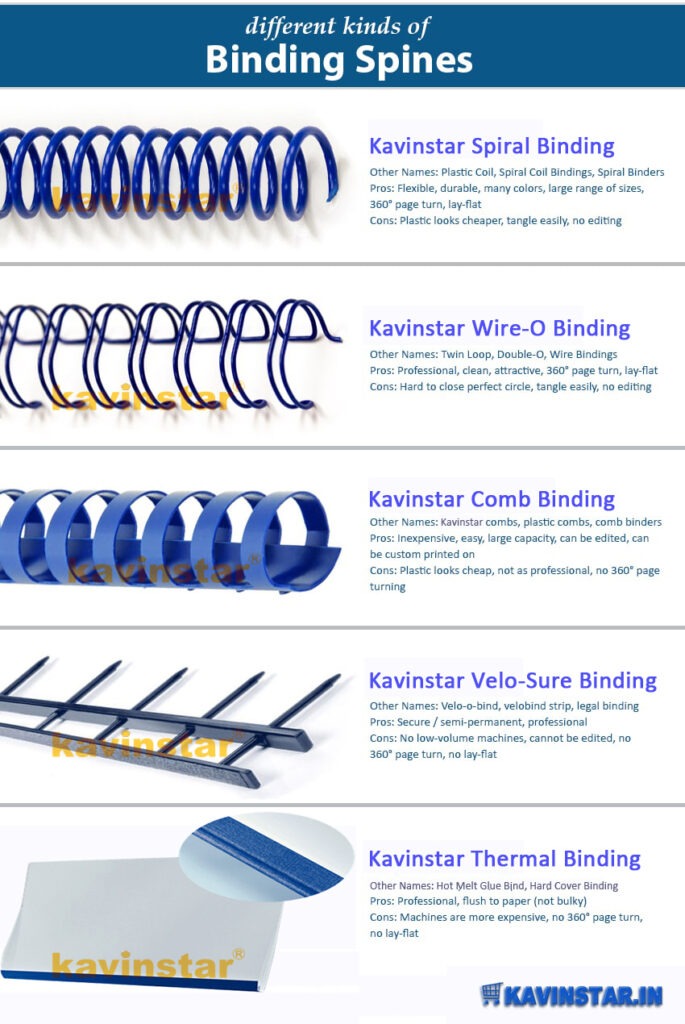 What's more, is that these machines are not just for getting work done; they are useful for recreational purposes as well. Easily and accurately create attractive scrapbooks, recipe books, sports rosters or schedules, and even travel literature. The possibilities are as endless as your imagination.
Working on a project can be a rewarding experience that makes you very proud in the end, especially if you were able to use the best equipment to get the job done. After many years of suffering through the trials and tribulations of trying to bind documents together accurately, a generous soul invented the binding machine. Thankfully, these devices are relatively affordable now; so seeing your vision come to fruition has never been simpler.
Various Types of Document Paper Binder Available in the Indian Market. there are many ways of mechanical binding: plastic-comb binding, ring-wire binding, wire-stitching, Velo-sure, thermo-binding, etc.
Spiral Binding Machines – Choose from the largest selection of spiral coil binding machines on the internet. We carry the full line of Kavinstar systems with options for almost any price range. Whether you are looking for a pair of coil crimping pliers, a light-duty manual punch with an inserting a table, a medium-duty manual machine with an electric roller, or a heavy-duty electric punch, we have the equipment to fit your needs. Scroll down to see the huge selection of coil binding machines and coil inserters that we carry. Plus if you need supplies we carry those too. We even carry a line of the recycled coil for environmentally conscious customers and a massive selection of pre-punched paper and covers to save you time.
Comb Binding Machines – Kavinstar is your premier source for plastic comb binding machines. In fact, we are one of the largest distributors of Kavinstar equipment in North America and we carry the full line of Kavinstar binding systems. Whether you are looking for a punch that is manual, electric, or just needs a modular comb opener, we have them all in virtually every budget range. Plus, we have a huge selection of spines, pre-punched paper, and covers to go with your system. Think of us as the one-stop shop for your Comb Bind needs.
Wiro Binding Machines – Kavinstar carries a huge selection of twin loop and wire-o binding machines. Choose from systems manufactured by Kavinstar. Whether you need a machine that does 3:1 pitch for smaller books, 2:1 pitch larger books, or a combination system such as the Kavinstar, we have what you need. For smaller volumes check out options with a manual punch or if you do a lot of binding you might want to consider an electric system. We even have options for print shops and binderies as well as stand-alone wire closers and closing devices. Also, be sure to check out our huge selection of supplies and covers to go with your system. Browse the options below and don't hesitate to call us or email us if you have questions.