Wiro Binding Machines (Metal Wire Binder)
Wiro binding machines, also known as metal wire binders, are among the most popular book binding formats used today. These machines utilize wire binding elements available in different hole formats, commonly referred to as "pitch" in the industry. The three-hole patterns include 2:1, 3:1, and Spiral-O, each designed for machines that punch a specific number of holes per inch.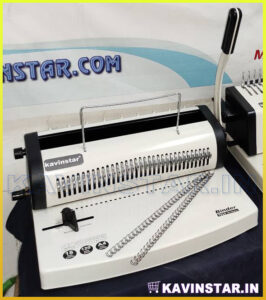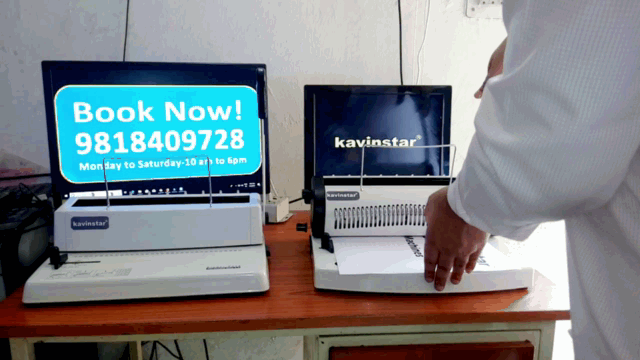 Your bound documents can have a polished, cutting-edge appearance thanks to wire binding machines. The wire binding makes it possible for pages to lie flat and rotate 360 degrees, improving readability and ease. To meet various binding needs, Kavinstar provides a selection of wire binding machines.
 Our wire binding machines come with a number of functions and are simple to use. In addition to separate machines for punching and closing, we provide alternatives for manual, electric, and manual closing. There are two alternative hole patterns available for the wire binding machines: 32 holes (3:1) and 21 holes (2:1). This makes it possible to bind documents with thicknesses ranging from 1/4″ to 9/16″ or 1 1/4″.
The strong steel construction of the wire binding machines from Kavinstar guarantees their long-lasting usability. A4, A5, B5, and other small paper sizes are among those for which they were created. With their simple installation and intuitive operation, our heavy-duty wire binding machines excel at producing wiro binding of the highest calibre.

A number of round holes are punched along the edge of the page for use with wire binding machines. These holes are then used to place the metal wire spines, often known as double loop wires or Wire-O. To accommodate varied document thicknesses, the wires come in a variety of sizes.
Here are a few significant benefits and characteristics of wiro binding machines:
Versatility: You can bind both thin and thick documents with Wiro binding machines since they can handle a wide range of document sizes and thicknesses.
Durability: Metal wire bindings offer a strong and reliable hold. When opened, the pages can lay flat, which makes it simple to read or take notes.
Professional appearance: Your documents' overall presentation is improved by the metal wire spines, which give them a polished, professional aspect.
Documents bound using wire can be simply altered or changed. It is a versatile option for papers that need to be updated frequently because pages can be added or removed without harming the binding.
Simple customization: Wiro binding machines frequently contain movable characteristics, including margin depth and hole spacing, enabling you to tailor the binding to your particular requirements.
Effective operation: Wiro binding machines are made to be simple to use. They often include a simple setup, clear instructions, and simple to use controls.
When using a wiro binding machine, you would normally align your document pages and use the machine's punching function to create holes around the edge. Following the punching of the holes, the metal wire spine can be inserted through the holes and closed with the help of the machine's wire closing mechanism. In places like offices, schools, print shops, and other businesses where durable and high-quality document binding is needed, wire binding machines are frequently employed.
You can rely on the dependability and effectiveness of our wire binding machines when you choose Kavinstar. Customer happiness is our first priority, and we offer premium service for a reasonable price. Our equipment is designed to last, which reduces the need for frequent replacements.
Make sure to take into account features like punching capacity, binding capacity, durability, and convenience of use when considering purchasing a wiro binding machine. Additionally, it's crucial to select metal wire spines that are the proper size for the thickness of your document. Overall, wiro binding machines provide a dependable and effective method for producing bound papers with a professional appearance that can endure repeated usage and handling.