Spiral Binding Machines (Plastic Coil Binder)
Spiral binding machines, also known as plastic coil binders, are versatile tools used to create notebooks, booklets, and other documents. These machines utilize a spiral of wire or plastic coils that are inserted through a series of punched holes along one side of each page and the front and back covers, securely fastening the pages together. With a spiral binding machine, you can easily punch holes in your documents and insert the plastic coils, resulting in a professional and durable bound finish. These machines are commonly used in offices, schools, print shops, and other organizations that require efficient and high-quality document binding.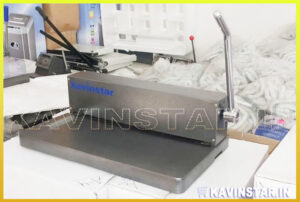 The spiral binding punching machine is designed to be portable and user-friendly. It features a manually operated lever that applies force to punch holes in a stack of papers. The machine consists of slender punches that penetrate the die holes, with the papers placed between a fixed stripper plate and the die. By applying force with the lever, the holes are punched at the desired positions.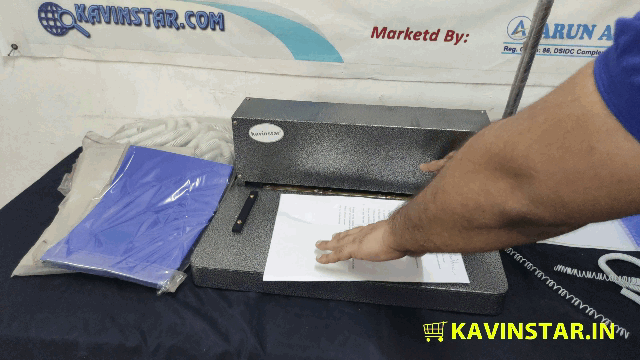 Some key features of spiral binding machines include their compact size, ease of operation and maintenance, and cost-effectiveness. They are designed to enhance productivity and ensure precise hole punching for consistent and professional results.
When it comes to spiral binding machines, Kavinstar is your trusted source for top-quality products. We understand the importance of precise and reliable binding, and our range of spiral binding machines is designed to meet your needs with exceptional performance.
At Kavinstar, we offer a wide selection of spiral binding machines, ensuring that you can find the perfect machine for your specific requirements. Whether you need a machine for small-scale projects or heavy-duty binding tasks, we have the right solution for you.

Our spiral binding machines are crafted with utmost precision and attention to detail. They are built to deliver consistent and professional results, allowing you to create beautifully bound documents, notebooks, booklets, and more. With features like efficient punching mechanisms, adjustable settings, and user-friendly controls, our machines make the binding process smooth and hassle-free.
At our online store, you can find a range of spiral binding machines suitable for various binding needs. We offer plastic coil binders with different punching capacities and capabilities. Additionally, we provide comprehensive customer support and assistance, ensuring a smooth purchasing experience.
Shop for spiral binding machines online and enjoy the convenience of creating professional-looking bound documents. Whether you need to create notebooks, booklets, or other spiral-bound materials, our machines will help you achieve high-quality results. Explore our selection of plastic coil binders today and find the perfect solution for your document binding needs.
When you choose Kavinstar, you can trust that you are getting the best quality spiral binding machines available in the market. We prioritize durability, performance, and customer satisfaction, ensuring that our machines exceed your expectations.