India's Leading Cash Counting Machine Manufacturer, Wholesaler, Distributor, Dealer, Importer, Exporter, Trader, and Service Providers. Business Grade Currency Bill Money Counters with UV/MG/IR/MT Fake Note Detector Cash Counting Machines. Money Counter Machines cum Fake Note Detector, Bill Currency Counter Machines, Note Counting Machine with 6 Modes, 1000 notes per minute, 1-year standard warranty.
Note Counting Machine Price in Lucknow
| | | |
| --- | --- | --- |
| Brand | Min Price | Max Price |
| Kavinstar | Rs 5200/Piece | Rs 45000/Piece |
| Godrej | Rs 13500/Piece | Rs 48490/Piece |
| Hindvanture | Rs 5500/Piece | Rs 27500/Piece |
| Call or WhatsApp | for Live Quote | Mob.9818409728 |
https://kavinstar.in/product-category/currency-counting-machines/
The Best Note Counting Machine Wholesale Supplier for Lucknow is Arun Automation. Provide all kinds of loose and bundle currency counting machines in every corner in India with after-sales service.
Whether your company is a big organization drawing in thousands of rupees in cash daily or a small team that needs a helping hand, a note counting machine could be just the advantage you need to handle cash efficiently and effectively.
A note counting machine can make a big difference to operations on any scale. It lets your team quickly and easily tally up cash. The automation of the counting process frees up your team, so they can tend to other tasks. For small teams, that's good news. Finally, a cash counter improves accuracy, which means your team will spend less time recounting and fixing mistakes.
The Main Operation Function of Note Counting Machine
Some can differentiate between different denominations and add values while others can simply add bills. Some have counterfeit detection systems that can detect counterfeit money while others are super speedy. Here, we look at many of the best currency counting machines on the market today.
Buy Note Counting Machine Online

Advantages of Note Counting Machine with Fake Note Detector
Large-scale cash transactions are not a new thing. To ensure that these operations go smoothly, it is essential to transfer the cash amount correctly. From small businesses to financial institutes and even some households, note counting machines are the devices of choice to ensure this. You most certainly would have come across note counting machines in banks when you go to withdraw or deposit cash. Jewelry, huge retail stores, where large amounts of cash are used as payment methods, not counting machines come handy.
The note counting machines of today don't serve only one function. The new range of machines also comes with a counterfeit detector that efficiently detects forged notes using magnetic and ultraviolet sensors. With the new pattern recognition criteria that some of these machines incorporate, the user does not even have to worry about sorting the different denominations of the notes anymore before putting them in the compartment as the machine recognizes the different values by itself.
Having a good money counting machine is essential, especially if you are a business owner. Getting your hands on a massive amount of cash, counting them one by one can be a nightmare. It would be best if you had something that will make the job easier for you. In this video, we're going to look at the top five Money Counting Machine with Automatic counterfeit detection, use of batch, add and count, fake note, fake bill detectors,  available on the market today.
We made this list based on our own opinion, research, and customer reviews. We've considered their quality, features, and values when narrowing down the best choices possible. If you want more information and updated pricing on the products mentioned, be sure to check the links above
Advance Features of Kavinstar Note Counting Machine
Kavinstar Note Counting Machine is Capable of counting up to 1000 bills every minute. Kavinstar UV/MG Note Counter uses magnetic and ultraviolet sensors to ensure speedy and quiet counting.
This machine offers four different counting modes. Suit the needs of different users. Its infrared detectors are designed to ensure that all notes are accurate count. Avoid errors like half notes, double notes, and chain notes.
With its self-lubricate bearings and self-diagnosing system. This is a low-maintenance note counting machine. Which is capable of either counting solely. The number of notes.
To keep a running total of the value of all notes enter.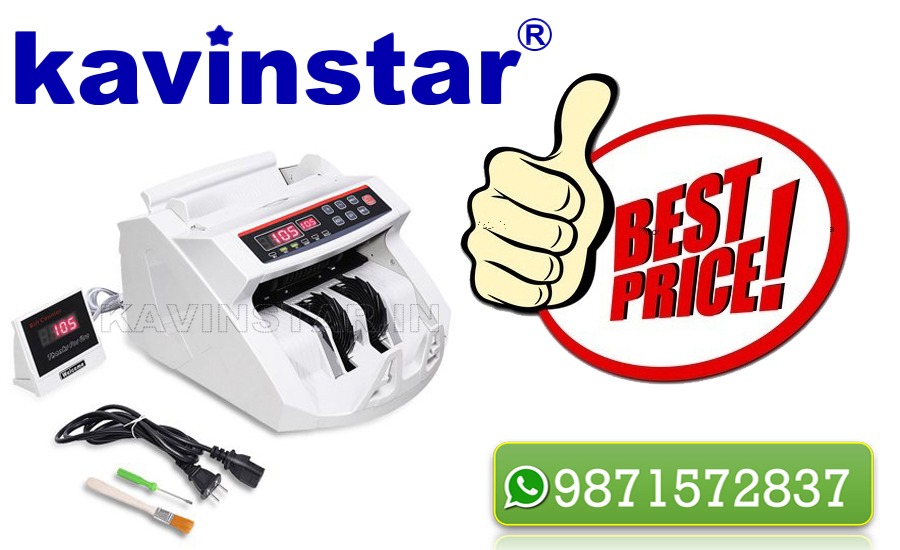 Best Note Counting Machine with Fake Note Detector
Kavinstar provides some of the best money counting machines in the current market. The company strives to manufacture innovative machines that can easily and accurately detect any possible fake notes thus reinforcing safety. 
Why choose Kavinstar?
Money counting machines that are manufactured by Kavinstar have various features other than their sole purpose of counting money.
From finding out a fake note to recognizing broken and narrow notes, their machines use a series of different sensors including ultraviolet, watermark, and magnetic detection sensors to do so.
Their machines are long-lasting and the exterior of their machines is quite durable.
This is the best money counting machine on the market and its quality is second to none. The product features a 1-year warranty to ensure that your investment is covered by the manufacturer in case of any structural defects. Moreover, this bill counter comes with technology that enables the detection of counterfeit bills.
It has been designed using a durable metal design to ensure that it is easy to clean, additionally, this also boosts durability. You will love the straight bill path that comes with this bill counter to ensure that bill jams are eliminated. This product can count up to 1000 banknotes per minute.
Arun Automation Phone No: +91-11-40230655,
We are always ready to assist our customers. Like you Please contact us for Currency Note Counting Machine Quotation. Please Note Delivery is free of cost at your doorstep. Please contact us for more information. Thanking you With Best Regards.
Key Features
Fake note detection technology
Reason to buy
Money Counting Machine Buying Guide.
Counting Speed: To save you a lot of time, it is important to buy a product that features a high-speed function. This is most especially if you are in a business that has numerous notes that require to be counted within a limited period. With a machine that counts at least 1000 bills every minute, you can be sure that a lot of time will be saved.
Fake Bill Detection: Here is another critical factor that you must consider when buying a cash counting machine. Invest in a device that features infrared, UV, and magnetic sensors to ensure that fake bills are identified.
Conclusion
Top 10 Cash Counting Machines Price in Lucknow
This is a list of the top 10 best money counting machines that you can find on the market in 2021. All of them come with the technology of detecting counterfeit bills, making them valuable and reliable. Moreover, the above reviews consist of affordable products and machines that will offer you value for your money.
Image
Product
Details  
Price
Value Master
Main Features : Mix Note Total Value Counting with UV, MG, MT, IR Fake Note Detection
Special Features : Sort Mode for Sorting Different Denomination Notes
Check Price
Mix Master
Main Features : Mix Note Total Value Counting with UV, MG, MT, IR Fake Note Detection
Special Features : Sort Mode for Sorting Different Denomination Notes.
Check Price
Touch Pro
Main Features : Mix Note Total Value Counting with UV, MG, MT, IR Fake Note Detection
Special Features : Sort Mode for Sorting Different Denomination Notes
Check Price
Velchek
Main Features : Note Counting with UV, MG, MT, IR Fake Note Detection
Special Features : Semi Value Counter
Check Price
OLP Prime
Main Features : Note Counting with UV, MG, MT, IR Fake Note Detection
Special Features : Semi Value Counter
Check Price
NP 150 LCD
Main Features : Note Counting with UV, MG, MT, IR Fake Note Detection
Special Features : Semi Value Counter
Check Price
Count Matic
Main Features : Note Counting with UV, MG, MT, IR Fake Note Detection
Special Features : Semi Value Counter
Check Price
Top Loader
Main Features : Note Counting with UV, MG Fake Note Detection
Special Features : Top Loading
Check Price
K 2500
Main Features : Note Counting with UV, MG, MT, IR Fake Note Detection
Special Features : Semi Value Counter
Check Price
VC 2108
Main Features : Note Counting with UV, MG Fake Note Detection
Special Features : Auto Start Bill Counter
Check Price
Of course, these advantages are only available when your machine is in good working order. Taking proper care of your currency counter will help you extend its life and enjoy all the benefits it has to offer longer. Regular cleaning and maintenance will help. Use these tips to get your team started.
Maintaining Your Note Counting Machine
Even if you've used a note counting machine before, it's best to familiarize yourself with new machines. It could have additional features. Newer models may have updated procedures, and different manufacturers may have different setups. Read the instructions and operate them with care. You'll have fewer troubles when using your machine the way it's meant to be used.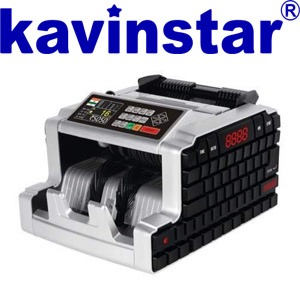 Never put foreign objects in the machine. That means checking all notes to ensure that there aren't any coins, paper clips, hidden staples, or rubber bands attached to them. These items could damage the machine.
When you're not using your note counting machine, turn it off. This step will prolong its life. Wipe down the feed and output trays, hopper, and stacker after every use with a clean, lint-free, dry cloth. Between uses, keep the machine covered up to prevent dirt and dust from collecting in the parts.
When to Clean Your Device
You should be wiping down your machine after every use for maintenance, but you don't need to perform a full cleaning quite as often. Ideally, you should clear out the insides of the machine at least once a week. If you use the machine frequently or put a high volume of cash through it, you may want to perform a full clean once or twice a week.
How do you know if your machine needs to be cleaned? You may notice several signs, such as batch back-ups, miscounts and inaccurate totals, or bill rejections. These are some symptoms of a dirty machine.
Use Canned Air
You can start cleaning your machine with canned air. Follow the can's directions closely. Improper use could damage your machine and be dangerous.
A common best practice is to unplug your machine before you begin. Then use the canister to blast dust from the surfaces of the counter. Make sure to blow the air in every opening so you can remove the debris from all the rollers and sensors.
Protect Your Investment
When you clean your note counting machine, you protect your investment. Give your machine the care and attention it deserves by cleaning it regularly. You can reduce the frequency of service calls and troubleshooting you have to make. You can also increase the machine's efficiency and extend its life.
People also ask
1. Is a fake note detector available with note counting machine dealers in Mathura?
A fake note detector is a type of cash counting machine, hence, it is easily available at the note counting machine vendor's shop nearby.
2. What are the different types of note counting machines?
There are a few different types of currency counting machines, they are:
Note counting machines
currency counting machines
Mix note currency counting machines
Bundle note counting machines
Note sorting machines, etc.
3. What is the approximate cost of cash counting machine?
The approximate starting price of note counting machine is Rs. 6,000 and above.
3. Can people buy note counting machines for domestic use?
note counting machine is used for counting higher amount, which is why it is used mostly in a commercial setting, especially at banks, shopping malls, departmental stores, etc.
4. Is home delivery of note counting machines provided by the dealers?
Arun Automation notes counting machine dealers from Delhi who offer doorstep delivery only on bulk orders while others may not offer doorstep delivery. Please check for delivery charges if any.
5. Which industries use note counting machines?
They used to avoid manual errors and are increasingly used for counting, sorting, and currency authentication. These machines are used in banks, retail outlets, schools and colleges, hospitals, railway stations, airports, and shopping malls, where cash exchange takes place regularly.
6. What is the warranty provided on note counting machines?
The warranty provided differs based on the brand of a note counting machine. Inquire about the terms and conditions and other details at the currency counting machine shop in Delhi.
7. Can I return the purchased note counting machine?
Return and refund policies are different for different shops and for different brands. It is suggested to inquire about these policies before making a purchase.