Paper Cutting Machines (Manual Handheld Paper Cutter)
Looking for a reliable and efficient paper cutting solution? Look no further than our range of paper cutting machines. These handheld cutters are specifically designed for Xerox shops, photocopiers, laser printers, small desktop printers, and suppliers of small calendars, diaries, and writing paper pads.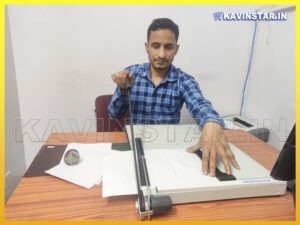 Manual handheld paper cutters: Our manual handheld paper cutters offer a convenient and cost-effective way to cut and shape various paper sizes and quantities. These machines require no electric power, take up minimal space, and are easy to handle. With their hand-operated design, they provide a risk-free cutting experience at an affordable price.
Capability & Need: No matter the length of the items you need to cut or the number of sheets you want to cut at once, we have the right paper cutter to meet your needs. Paper cutters are essential tools for any company that heavily relies on paper as its primary output or product. We offer a wide range of cutter options to fit different budgets, ensuring that customers can find the best product for their specific requirements.
Hydraulic paper cutters: Our selection includes classic guillotine-style paper cutters, where a board with standard paper measurements is placed on a flat surface, and a cutting tool smoothly cuts the paper to perfection. For bulk cutting purposes, we offer hydraulic paper cutters that apply the right pressure to cut reams of paper smoothly and evenly. Additionally, we provide electric stack cutters for fast and automated cutting processes.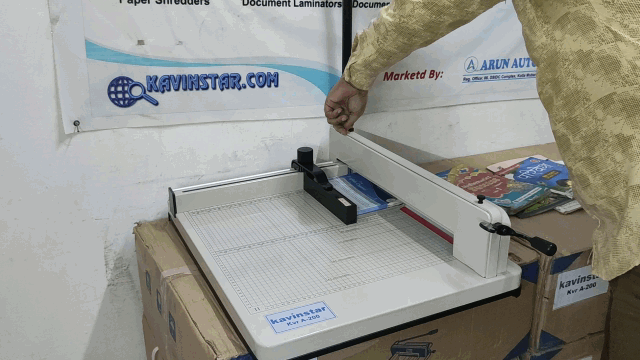 Paper Cutting Machines: Our hand paper cutting machines are suitable for various settings, including desks, open-plan offices, workshops, marketing agencies, notebook binders, publishers, and printers. These machines deliver precise, safe, and speedy paper cutting, whether you need to cut individual sheets or whole stacks. Designed with user-friendliness in mind, they are the perfect solution for small to medium amounts of paper.
Heavy Duty Paper Cutter Machine Model: For heavy-duty cutting needs, our KVR A200 model is highly recommended. It can effortlessly cut business cards, ID cards, PVC sheets, notebooks, bill books, and thick/strong papers ranging from A4 to A3 size. Experience precise and efficient paper cutting with this reliable machine. Upgrade your cutting capabilities with the KVR A200 model.
India's No.1 Manual Handheld Paper Cutter or Cutting Machine, emphasizing its precision in paper cutting. It also mentions the availability of manufacturers, suppliers, and exporters in Delhi, providing a wide range of options. The description encourages readers to contact the given telephone and mobile numbers for the best prices on manual paper cutters, highlighting the enhanced paper cutting experience and the reliability of suppliers in India.
Browse our catalogs to compare products and find the paper cutting machine that fits your specific needs. We offer competitive prices to suit your budget, regardless of the size of your projects. Say goodbye to tedious cutting processes and opt for instant results with our reliable paper cutters.