Comb Binding Machines (Plastic Spico Binder)
When it comes to binding pages together into a book, comb binding machines (also known as spico binding) offer a reliable and popular method. This technique makes use of a hole puncher that produces rectangular holes as well as round plastic spines with 19 rings (for US Letter size) or 21 rings (for A4 size). At Kavinstar, we offer a range of comb binding machines designed to meet your binding needs with ease and affordability. Whether you require binding for schools, businesses, or even personal use, our comb binding machines are the ideal solution.
Our comb binding machines are known for their user-friendly operation and affordability. With the ability to bring your comb binding jobs in-house, you can enjoy substantial savings compared to costly outsourcing. Whether you choose a manual or electric punch machine, you can count on efficient and professional results.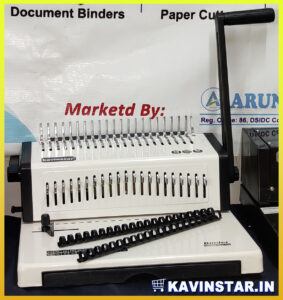 When selecting a plastic comb binding machine, the punch capacity is an important factor to consider. If you often work with presentations containing numerous pages, a larger punch capacity will greatly benefit you. For instance, if you need to bind twenty 100-sheet presentations, a machine with a 10-sheet punch capacity would require you to punch your paper 200 times, whereas a machine with a 25-sheet punch capacity would only require 80 punches.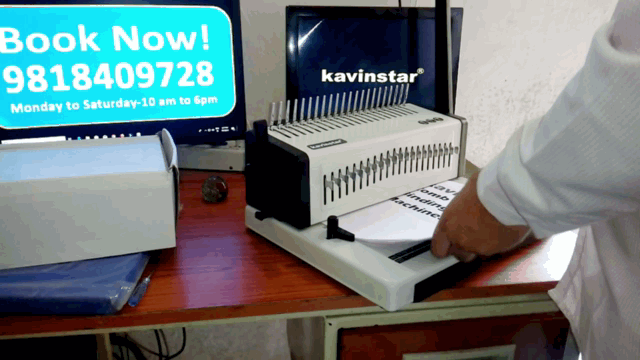 Are you looking for a seamless and hassle-free way to organize your documents? Look no further than Kavinstar. Our online store offers a wide selection of comb binding machines, also known as plastic spico binders, to meet your document binding needs with utmost convenience.
With our comb binding machines, you can effortlessly organize your documents into professional-looking books or reports. Whether you need to bind school projects, business presentations, or personal documents, our comb binding machines are designed to deliver exceptional results.
At Kavinstar, we prioritize the quality and performance of our products. Our comb binding machines are built to provide reliable and efficient binding capabilities, ensuring that your documents are securely bound together. With their user-friendly features, you can easily punch rectangular holes in your documents and insert the plastic spines with precision.

By shopping online at Kavinstar, you can enjoy the convenience of browsing and purchasing our comb binding machines from the comfort of your own home or office. Our website is designed to provide a seamless and user-friendly shopping experience, allowing you to find the perfect comb binding machine that meets your specific requirements.
Invest in an exceptional comb binding or plastic spico binder machine from Kavinstar and experience effortless document organization like never before. Say goodbye to messy stacks of loose papers and embrace the professional and organized appearance of bound documents.
An electric punch model can be particularly helpful in such scenarios, as it eliminates operator fatigue and streamlines larger binding jobs. Consider your specific requirements and choose a comb binding machine that suits your needs. By purchasing your comb binding machine from Kavinstar, you can trust that you are investing in a high-quality product. Our machines are built to deliver exceptional performance and long-lasting durability. 
Make the convenient choice of purchasing your comb binding machine online from Kavinstar. Browse our selection today and find the perfect machine to fulfill your binding needs with precision and ease. Visit our online store today and explore our range of comb binding machines. With Kavinstar, you can achieve efficient document organization with ease.