Fully Metal Body Paper Shredder Machine Heavy Duty. Best Quality Office Paper Shredder Machine at Best Price. We are one of the top Manufacturer, Importer, Exporters, Wholesalers, Traders, Distributors, Dealers, Suppliers, and Service Provider of different kinds of shredders based in New Delhi, India.
Get Best Deals Contact us Tel. 01140230655, Mob. & WhatsApp 9953968896 or 8587870939. Prices and More Details Visit Our Website https://kavinstar.in
Price Range of Metal Body Paper Shredder Machine
| | | | |
| --- | --- | --- | --- |
| Sheet Capacity | Cut Type | Min Price | Max Price |
| 20-25 Sheets | Cross cut | Rs 65000 | Rs 80000 |
| 30-35 Sheets | Cross cut | Rs 80000 | Rs 96000 |
| 20-25 Sheets | Strip cut | Rs 60000 | Rs 75000 |
| 40-45 Sheets | Strip cut | Rs 70000 | Rs 88000 |
https://kavinstar.in/shop/?product_cat=0&s=metal+body+paper+shredder&post_type=product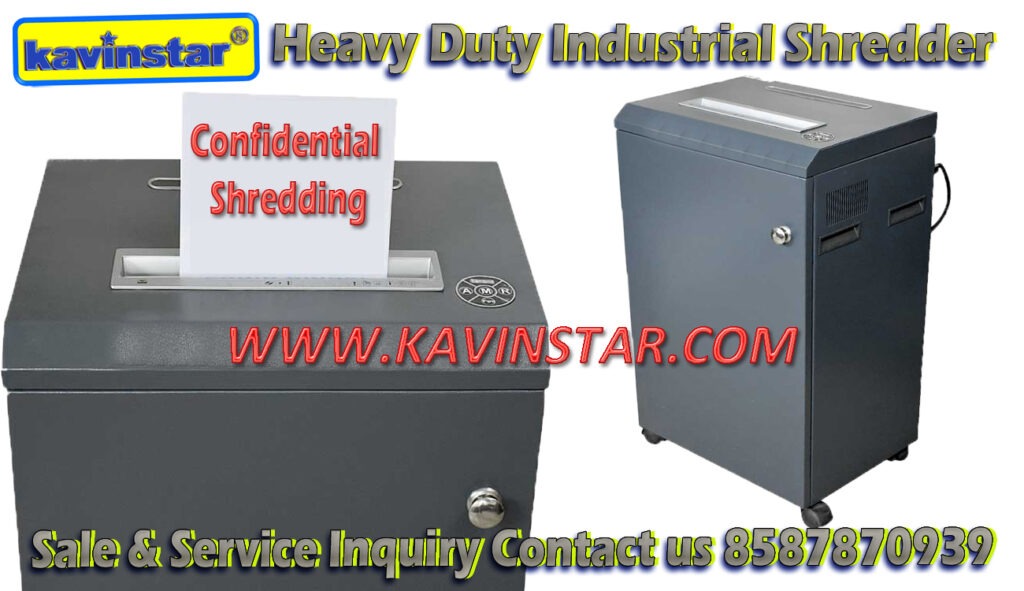 Heavy Duty Paper Shredder plays a very big role in confidential documents from shearing outside the office. Shredder Machine uses to destroy all your non-disclose deeds, records, account papers, catalogs, files, and vouchers, etc. As the word defined Heavy Duty Paper Shredder basically use in large Quantities of shredding Documents that work in big scale crash papers for the bulk user.
HEAVY-DUTY CROSS CUT PAPER SHREDDER WITH METAL BODY
Kavinstar is a renowned name in the manufacturing of heavy-duty Paper Shredders India. The largest selling brand shredder in India.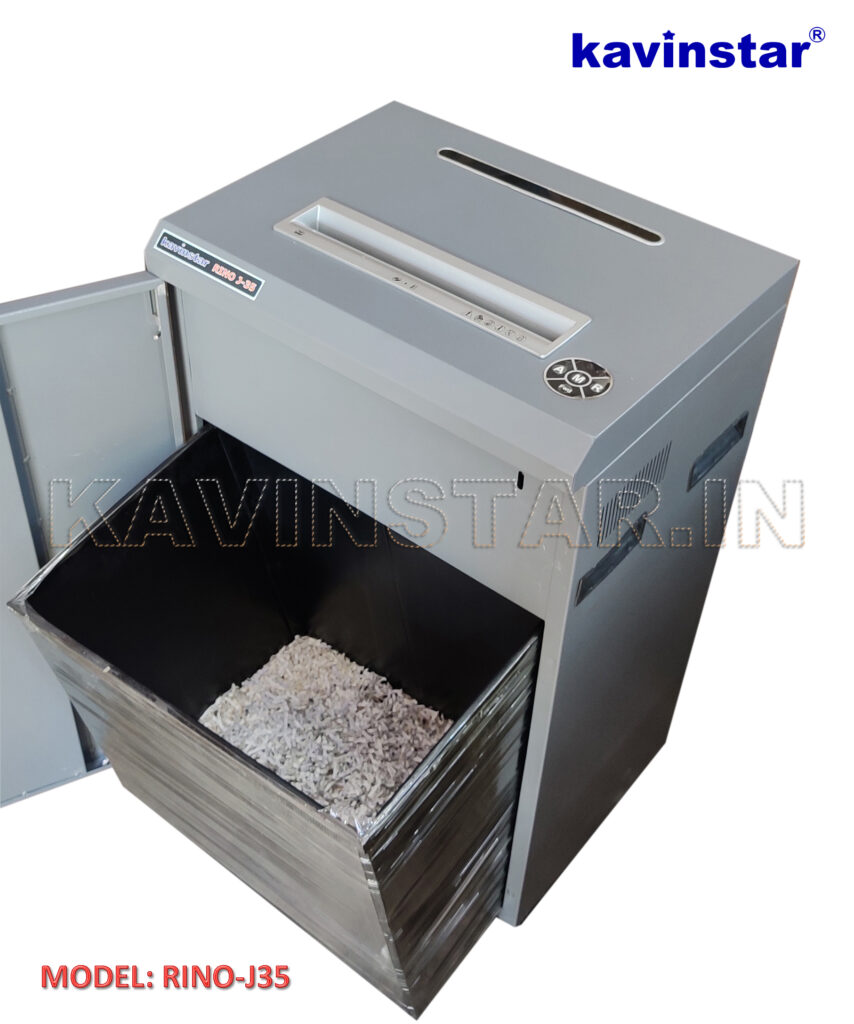 Kavinstar Shredder is developed employing standard quality material. With the latest technology in accordance with international global standards. The mentioned products are hugely appreciated by the clients owing to excellent performance. High efficiency and compact design.
HEAVY-DUTY STRIP CUT PAPER SHREDDER WITH METAL BODY
KAVINSTAR® Industrial paper shredders are even more important in industries subject to audit regulation. To comply with the strict regulations proper disposal of sensitive information is essential, and a reliable shredder is the only way to go. Our top shredders are meant for these uses.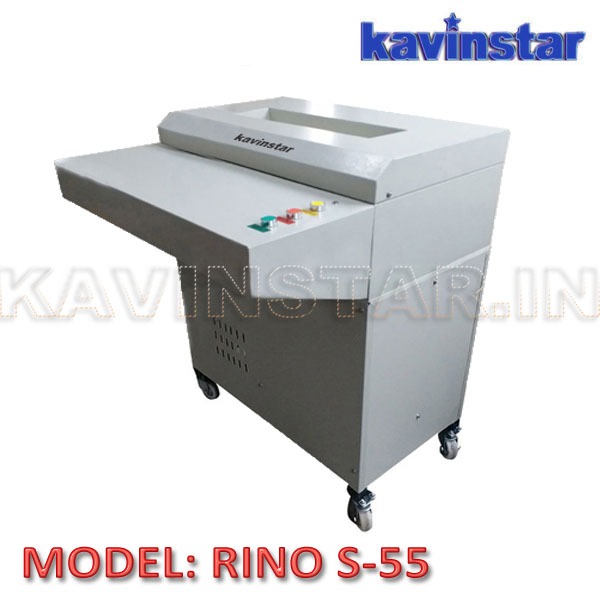 A large capacity industrial heavy-duty paper shredder can shred from 40 sheets in one pass up to 100 sheets in one pass. Our heavy-duty industrial shredders are designed to withstand heavy volumes of shredding and are a great investment. These industrial heavy-duty shredding machines will last your company 5-10 years (if properly maintained).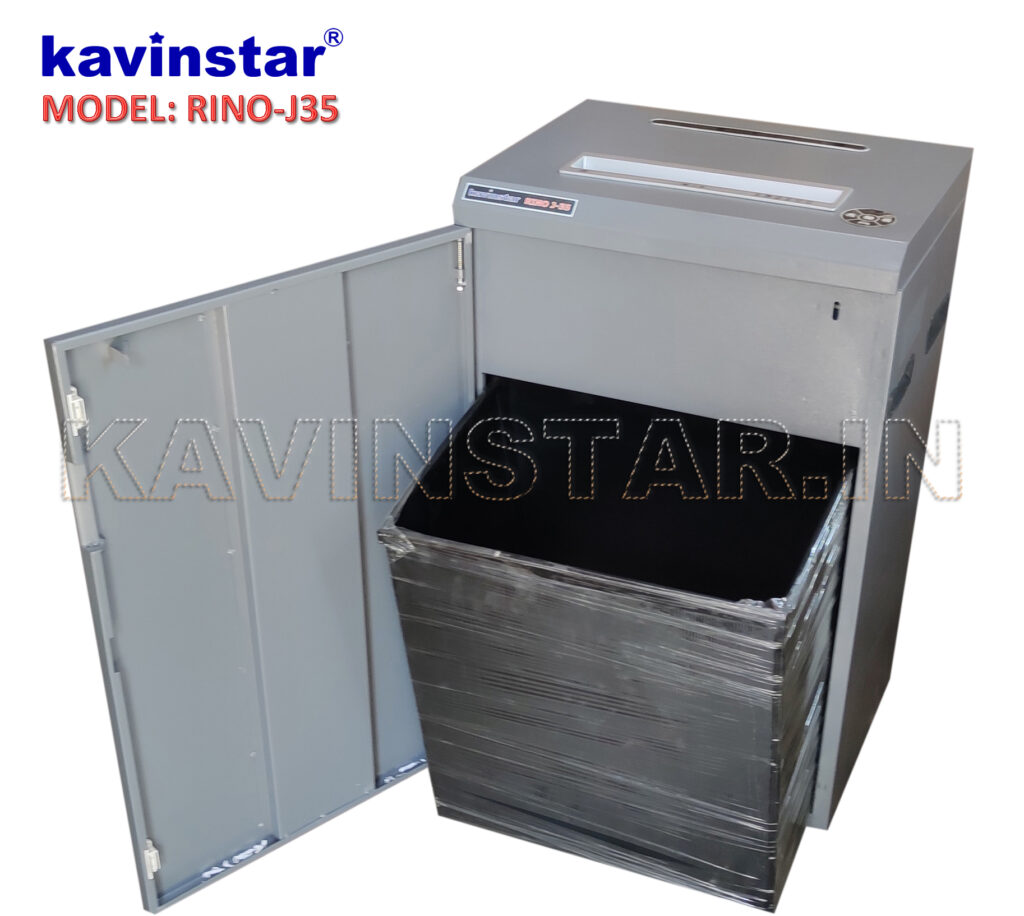 Heavy Duty Paper Shredder Available in best technical specifications.
30 mnt continue running,
cross-cut model
Low noise level shredder
Available in abs plastic body Also Available in Metal Body.
MS steel blade
Automatic thermal cut.
We are committed to providing professional reliable and cost-efficient. Secure your office document shredding, cd, credit card, paper, cd catalog & certificate. is not only a safe and secure way of valuable information & data from getting into the hands of wrong people for misuse. It's is also a great way to contribute to helping the environment. as we recycle the shredded paper.
We deal in all types of industrial Paper Shredder Machine.

Buy Kavinstar Metal Body Paper Shredder Machine Heavy Duty in India.
Apart from this, we advise you to be aware of duplicate brands of the same name. Only choose the products that have claimed to be and have written 'Sold by Arun Automation' on them.
For Bulk Enquiry / Retail Enquiry Please contact (in Hindi) by WhatsApp or Call to Mob. #8587870939 or #9953968896, Tel. #01140230655, Add: 73, DSIDC Complex, Kotla Mubarakpur, New Delhi-110003 (Office Hour 10:00 am to 06:00 pm, Working Days Monday to Saturday, Sunday Closed)

Keep your sensitive information sale from prying eyes with a paper shredder that can destroy private personal details. At https://kavinstar.in​ will help you choose the perfect strip-cut cross cut or micro-cut paper shredder based on factors like level of security, heavy-duty cutting capability, size portability price, user reviews, and star ratings.
About Paper Shredders
For either home or office, a paper shredder is a valuable device to help you dispose of sensitive papers, such as bank and tax statement credit card information, and any other documents containing personal details Identity theft experts say that shredding any document containing such personal information is vital to keep thieves from stealing money hacking into your email and other accounts, and otherwise protecting you and your family. Today, as hackers grow more sophisticated, it becomes more important to make sure that this information is inaccessible and a paper shredder can ensure that sensitive details are destroyed without causing you to have to manually tear paperwork into small pieces.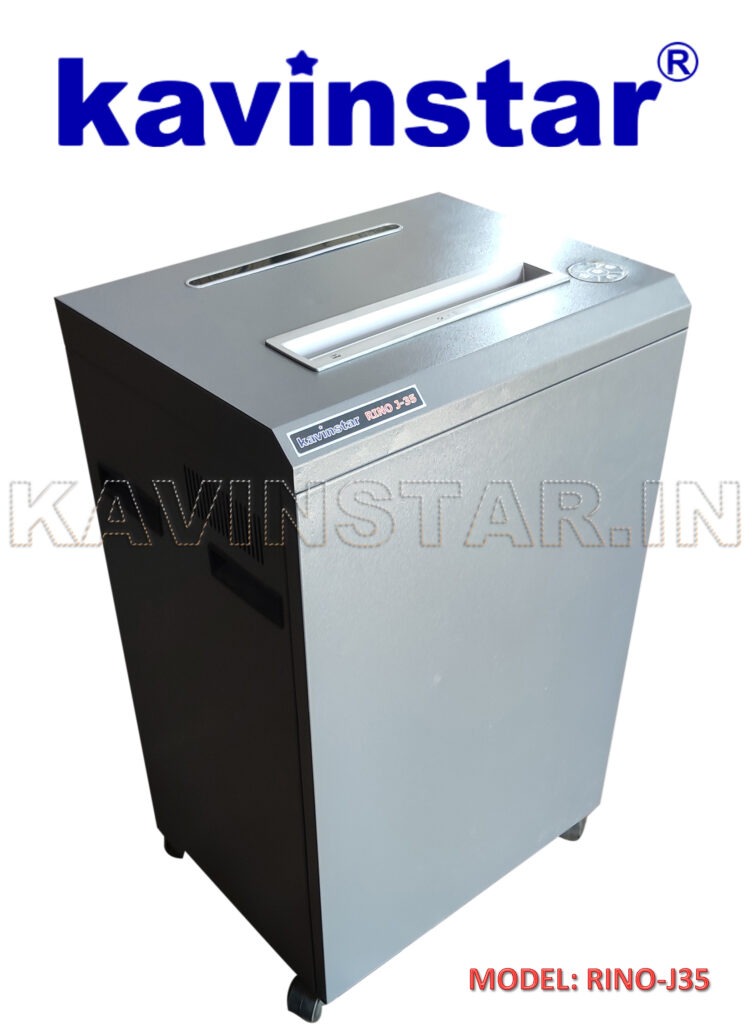 There are three basic types of paper shredders, all based on security levels strip-cut, cross-cut, and micro-cut. A strip cut paper shredder is the most basic type and recommended for situations where you don't need high confidentiality. These shredders cut paper into long, thin strips, which is ideal for disposing of junk mail, office paperwork, and other low-security items Today's most common shredders on the market are the next level up, cross-cut.
These paper shredders cut the long strips, then cut each strip again into a shorter stop The resulting pieces resemble confetti and become much harder to put back together Cross-cut shredders are ideal for small businesses, home offices, and other settings where there may be some sensitive information, such as bank account information For the highest level of security, choose a micro-cut shredder which tears the paper into tiny pieces that are virtually impossible to reassemble these shredders meet federal document destruction guidelines A fourth, high-security style of micro-cut shredder provides the smallest possible cut and is ideal for anyone who needs to destroy highly sensitive top-secret information.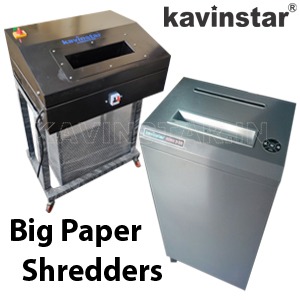 Once you decide the level of security, you'll next need to decide how powerful you need your paper shredder to be If you plan to shred a few pieces of paper here and there a basic home paper shredder should be enough In an office setting or situation where you need to shred several documents you may want to choose a shredder that can handle 30-35 sheets at a time For bigger jobs or tougher materials such as thick or glossy paper, CDs, or credit cards, you will need to choose a heavy-duty paper shredder Keep in mind that you will need to have the shredder sharpened occasionally.
Kavinstar is one of the best-reviewed brands of paper shredders offering models that are perfect for home and small to medium offices. These paper shredders are known for their ability to shred everything from paper to discs, and even paper dips, without getting jammed. An office with a need for high-volume shredding may want to get the Staples SPL.

KAVINSTAR RINO-J35, which can shred 35 pages at a time and handle other materials like plastic and thin metal. For a very affordable option that will get the job done, consider the https://kavinstar.in​
35 Sheet Cross-Cut Paper and Credit Card Shredder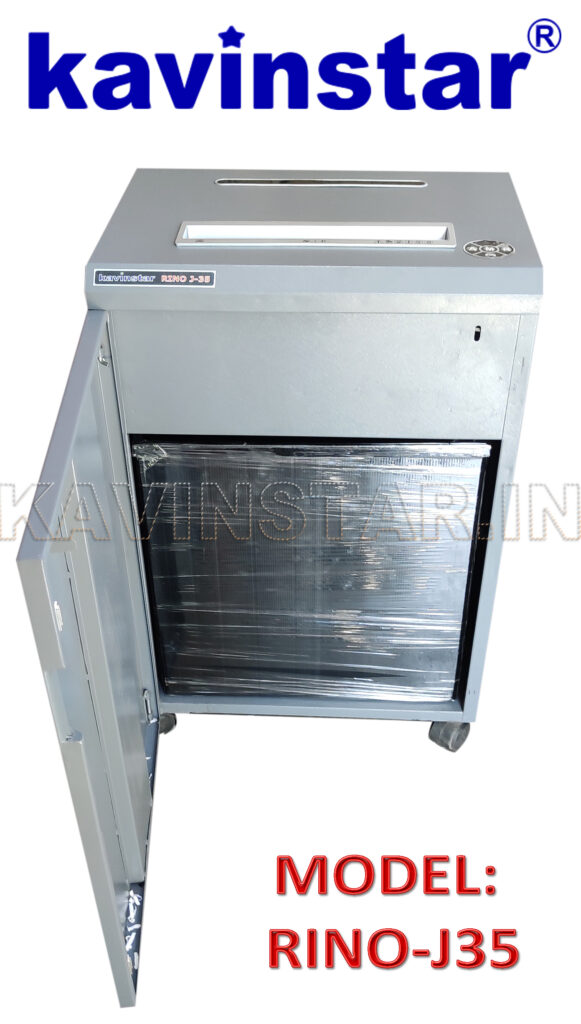 =================================================
Price Depend on Market condition, fluctuations & interaction between demand and supply components of a market Approx INR. 70000/- to INR. 271000/- =================================================
How long do paper shredders last?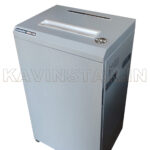 Most household shredders can shred between 5-10 minutes continuously before a cool-down period is needed. Professional shredders for offices can run for up to 30 minutes.
Why do shredders stop working?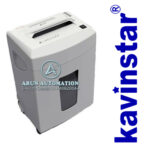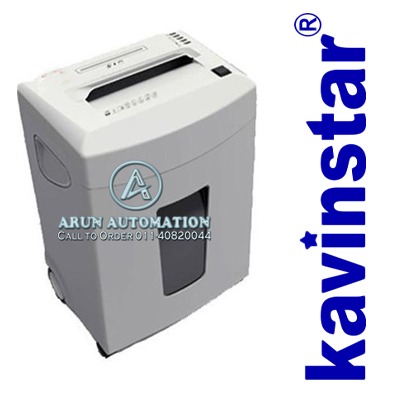 It is possible that you unit has overheated. If you have been shredding papers for a long period of time or have been inserting large amounts of paper then your device may have overheated. Turn off your device and let it cool down for 30 minutes before attempting to use it again.
Can you throw away a paper shredder?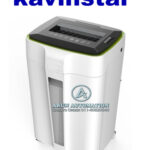 Getting rid of an old or unneeded paper shredder is easy. … If the paper shredder has ceased to function, the appliance can be thrown away with your household garbage. You may elect to recycle as much of the components as you can remove and then put the remnants into your household trash.
What should I look for when buying a paper shredder?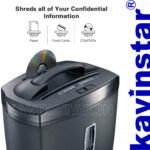 1) Paper Size.
2) Load Size.
3) Cut Type.
4) Shredder Speed.
5) Noise Levels.
6) Security Levels.
7) Advanced Features.
8) Power Saving.
Are paper shredders worth it?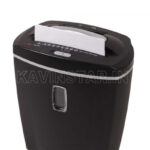 In the face of the potentially costly and time-consuming toil involved in recovering from identity fraud, shredding is well worth the effort. A shredder "is one more tool in your arsenal against ID theft.
Is micro-cut shredder better than crosscut?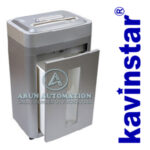 The main difference is that a micro–cut shredder offers more security because the shredded paper particles are smaller than standard cross-cut shreds. Both paper shredders cut a page diagonally from both corners. … The only difference is that a micro–cut shredder produces smaller and more particles per shredded document.
How do you fix a shredder that won't shred?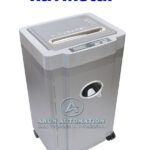 Before you turn off the clogged shredder and go near the blades, try using the reverse function most shredders have. The reverse function can, in some cases, solve a simple jam. If this doesn't help or your shredder doesn't have a reverse function, try turning it off and unplugging it.
What can you not put in a shredder?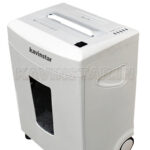 Metal Credit Cards. Some paper shredders can handle plastic credit cards, but cards that have a magnetic strip or microchip pose serious problems. Important Documents. When you declutter, you may want to shred everything. Cloth.
Can Staples go through a paper shredder?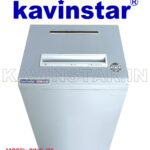 Do I Have to Remove Staples and Paper Clips Before Sending Documents to be Shredded? No. Professional paper shredders can easily cut through staples, paper clips and even binder clips. So you don't have to waste time removing them.
Namibind Metal Body Paper Shredder Machine
SToK Paper Shredder Price
Metal Body Paper Shredder Machine with Cross Cut
Amazon Basics Paper Shredder
Kavinson Metal Body Paper Shredder Price
GBC Paper Shredder
Fellowes Paper Shredder
Metal Body Paper Shredder Machine with Micro Cut
Bambalio Paper shredder
Kubsimpex Metal Body Paper Shredder
Sasco Metal Body Paper Shredder
Shredders and Shredding Company
Raj Electricals Metal Body Paper Shredder
Kraygroup Metal Body Paper Shredder
KT International Metal Body Paper Shredder
Metal Body Paper Shredder Machine with Strip Cut
Shine International Metal Body Paper Shredder
Aditya Metal Body Paper Shredder Price in Delhi
Lada Metal Body Paper Shredder Price in Delhi
Metal Body Paper Shredder Machine with Straight Cut
Kores Heavy Duty Paper Shredder
Gobbler Heavy Duty Paper Shredder
Avanti Metal Body Paper Shredder Price in Delhi
Antiva Paper Shredder Price
Amey Engineers Metal Body Paper Shredder
Intimus Metal Body Paper Shredder
Right Concept Metal Body Paper Shredder
GBT Metal Body Paper Shredder
Gbtech Metal Body Paper Shredder at Best Price
Namibind NB1060 Micro Cut Paper Shredder With Metal Body
Am Industries Metal Body Paper Shredder
Avanti Business Machine Limited Metal Body Paper Shredder
Bajaj Stationery Solutions LLP Metal Body Paper Shredder
Infres Methodex Pvt Ltd Metal Body Paper Shredder
MS OFFICE AND SECURITY SOLUTION Metal Body Paper Shredder
Swaggers Metal Body Paper Shredder
Elcons Metal Body Paper Shredder
Steadfast Metal Body Paper Shredder
Hexaindia Metal Body Paper Shredder Machine
Suntech Office Automation Paper Shredder Machine Dealers in Mumbai
Natioanl Industrial Paper Shredder Machine Dealers in Delhi