Cash Counting Machine with Fake Note Detector. Contact us Tel. 01140230655, Mob. & WhatsApp 9818409728 or 8587870939. Prices and More Details Visit Our Website https://kavinstar.in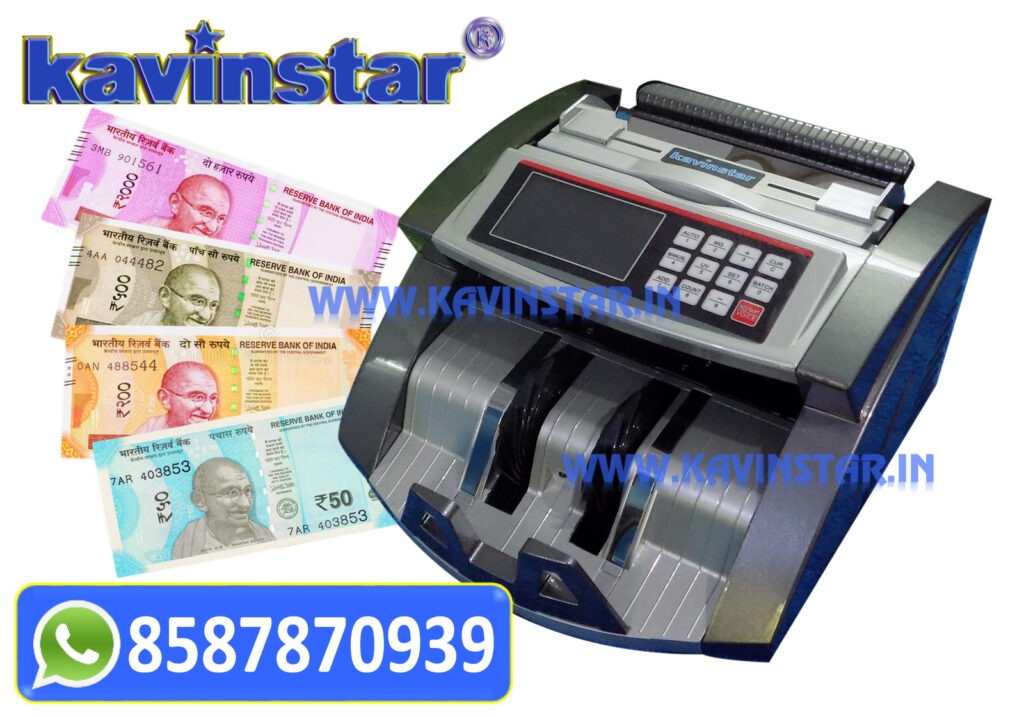 Accurate, High Speed Currency Counter
If you are a retail shop owner or business man with a big setup. Kavinstar OLC Prime currency counting machine with false note detector. can simplify your money matters, easily. Retailers, super markets and other business. Setups often face issues in keeping tabs on currency counting staff. As they might make mistakes in counting and detecting false notes. But with the help of Kavinstar, business owners can now stay relax. As this compact machine. works in full speed, without leaving any room for mistakes. Also note, the machine can easily detect notes.
False Note Detection, Advanced Software
This currency counting machine comes equipped with automatic false note detector. That saves you from getting stuck with false currency. So that you can immediately take an action against the fraud. The detector gets started automatically and comes with Automatic UV rays and magnetic counterfeit detection. The machine also features unique software that is sound error indicator. The software helps in detecting double notes, chained notes, half note and jammed bank notes.
Additional features
Kavinstar OLC Prime currency counting machine comes with one LCD display on machine. And one LED display that Is external. The machine can easily count 1,000 notes per minute. Very helpful in reducing the manual labor time as well. It doesn't consume much power, assuring speed and accuracy at the same time. Kavinstar is perfectly suitable for all currencies and helps big time. Even in the most complex business environments, where money transaction is a frequent activity.
By Cash Counting Machine with Fake Note Detector in India.
Apart from this, we advise you to be aware of duplicate brands of the same name. Only choose the products that have claimed to be and have written 'Sold by Arun Automation' on them.
For Bulk Enquiry / Retail Enquiry Please contact (in Hindi) by WhatsApp or Call to Mob. #8587870939 or #9953968896, Tel. #01140230655, Add: 73, DSIDC Complex, Kotla Mubarakpur, New Delhi-110003 (Office Hour 10:00 am to 06:00 pm, Working Days Monday to Saturday, Sunday Closed)
[TheChamp-Sharing]