Maximize Paper Katran Production with Make in India Paper Katran Machine Available at Best Price in Delhi, India. Kavinstar has the best price for katran machines and shredder machines for the market of India.
Paper Katran Machine Cost
| | | |
| --- | --- | --- |
| Production Capacity | Min Price | Max Price |
| 50-60 kg/hr | Rs 65000/Piece | Rs 80000/Piece |
| 80-100 kg/hr | Rs 165000/Piece | Rs 210000/Piece |
| 130-150 kg/hr | Rs 235000/Piece | Rs 275000/Piece |
| 150-200 kg/hr | Rs 290000/Piece | Rs 340000/Piece |
All India Distributor & Supplier
ARUN AUTOMATION
GST/UIN 07AZHPK9910B1ZI
ADD: 73 & 74, DSIDC COMPLEX, NEAR BAPU PARK, KOTLA MUBARAKPUR, NEW DELHI-110003
HELPLINE: +91 9818409728 OR +91 8587870939, 
TEL: +91-1140230655
EMAIL: [email protected]
WEBSITE: www.arunautomation.in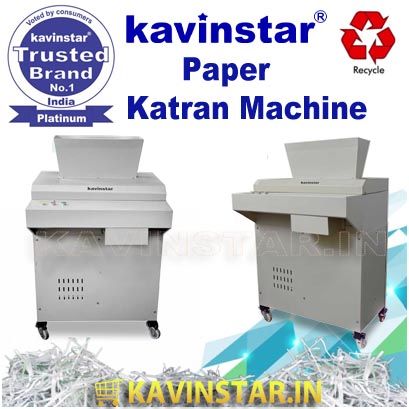 Worldwide paper katran or shredder machine from Kavinstar, is engaged in manufacturing and exporting a wide range of Paper Shredder that is available at affordable prices. These shredders are available in different models and are tested on various parameters to ensure that they are free from flaws. The products are known for their smooth operation and power-saving capacity. We are leading in Paper Shredder company in the world. You can enjoy purchasing online and have the delivery to your desired organization.
What is Paper Katran Machine?
paper katran machine or katran machine is a heavy-duty strip-cut (straight-cut) paper shredder machine and it is used to shred newspapers which are used in packing fruits.
The Paper katran machine is popular with Fruit Vendors as it is used during Fruit packaging.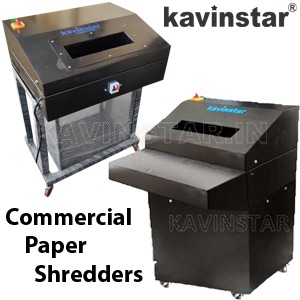 Where are Paper Katran Machines Used?
Paper Katran machines are primarily used for shredding papers; other uses also include plastics, cartons, mono cartons, corrugated boxes, newspaper, laminates, cheque leaflets, etc. They are used either to destroy or volume reduction for reprocessing and recycling.
Proper waste management is very important in factories; Production waste should be destroyed to avoid misuse. These machines are exactly made for this purpose. Large quantities of confidential documents also need to be destroyed securely, our strip-cut shredder range is a classic machine for this use, all machines are made for continuous usage for years together!

Kavinstar Central shredding systems consisting of Paper Katran Machine designed to work extremely high volumes of paper quickly and easily.
Types of Paper Katran Machines:
Straight-cut (Strip-cut) Paper Katran Machine
With a Straight-cut (strip-cut) paper katran shredder machine, you can shred paper documents, catalogue, printing labels into long, narrow strips. The advantage of this type of shredders is that you can shred quick and easy because of the single cutting mechanism. The downside of strip cutting shredder machines is that they offer less data protection in comparison with other brands this model easy operating with low maintenance.

A strip-cut shredder is a perfect shredder option when you want to shred non-confidential documents, like junk mail. So what are the best strip-cut shredder machines you can buy? Below we've selected a few strips cutting shredders for personal use for occasional shredding documents at home. You can also find reliable commercial shredders for the office environment for more heavy-duty shredding tasks.
Cross Cut Paper Katran Machine
Cross-cut paper katran shredder machines are the latest addition to the list. Offices or factories have a huge volume of paper wastages which is to be shredded for the security purpose. Heavy-Duty Cross Cut Paper Shredder or cross-cut paper katran machine is used to shred thick Paper and Cartons, Credit Card, Newspapers, etc. These Cross-Cut Shredder Machines are developed indigenously.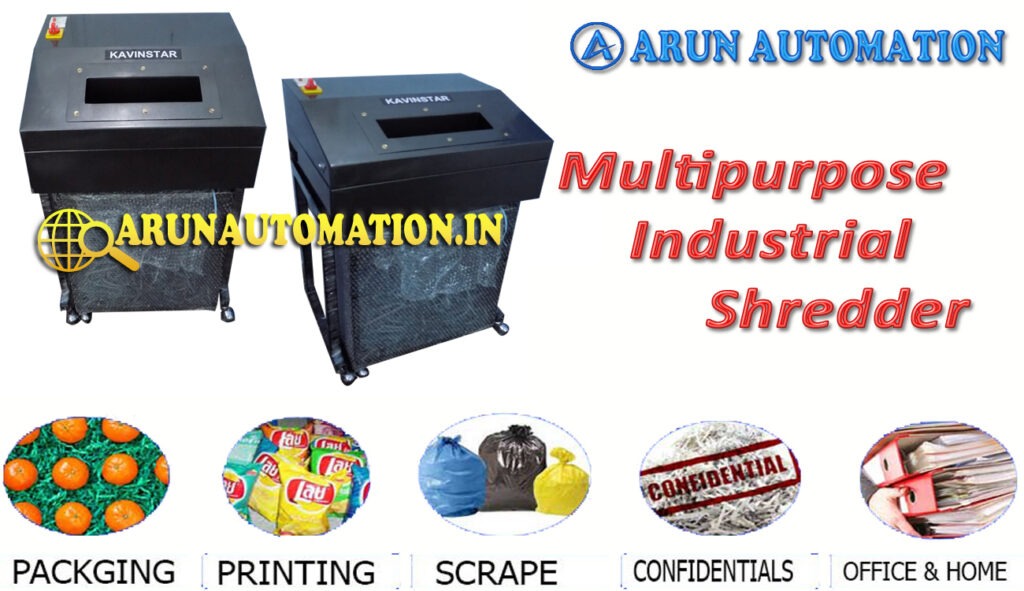 Paper Katran Machine also known as several names likes:
Paper Katran Machine, Newspaper Katran Machine, Katran Machine, Paper Shredder Machine, Paper Shredder, Paper Shredding Machine, Industrial Paper Shredder, Industrial Paper Shredder Machine, Heavy Duty Paper Shredder Machine, Commercial Paper Shredder
Features of Katran Machines
Best use in packaging industries
Strip Cut cutting
Industrial use
Maximize production
Make in India
1 Year Warranty
Kavinstar paper katran shredder machines from Arun Automation are rugged, heavy-duty and at the same time cost-effective Dual shaft shredders ideal for medium to heavy-duty paper shredding. These paper shredders are suitable for Traders and Farmers for their packaging requirements. These Katrans (Shredded Paper Strips) are filled in the base and sides of Fruit boxes/glass boxes as a buffer and to keep the fruits intact in the boxes. Kavinstar shredders are powered by 1 HP, 2 HP, 3 HP, and 5 HP motors and can shred up to multiple papers simultaneously.
Salient Features of Kavinstar paper katran shredder machine:
We are a trusted manufacturer and supplier of a wide spectrum of Industrial Shredders & Grinding Machines such as Industrial Shredders. Our industrial range has been highly admired for its quality by patrons across the world. We set forth for our customers a selective scope of Industrial Shredders, which is produced utilizing premium quality material and the most recent innovation. Broadly refreshing for its unrivaled outline and demonstrated unwavering quality, our scope of Shredders is utilized over a few zones of use.
We have an industry expert of top industrial shredder for sale. Manufacturer of a wide range of products which include carton shredder machine, industrial paper shredder machine, newspaper katran shredder for a fruit packaging machine, katran agriculture fruits packing shredder machine, office duty shredder machine and paper fine crusher.
our strip cut paper shredders (deskside model) are sturdy in construction and acclaimed for their uninterrupted and qualitative performance. Some of the technical features of the desk size model paper shredders.
Key Features:
Operator safe design.
Low maintenance and life cycle cost.
Hardened Special Alloy Steel Cutters.
Rugged construction.
Buy Best Quality Paper Katran Machine at Best Prices. Contact
Arun Automation
Telephone ☎️ 01140230655, Mobile and WhatsApp 9953968896.
Address: 73, Dsidc Complex, Bapu Park, Kotla Mubarakpur, New Delhi 110003.