Wiro Binding Metal Wire (Pitch 2:1 & 3:1)
Wiro Binding Metal Wire in a variety of colors including black, white, silver, red, and blue both in 3:1 (3 holes per inch) and 2:1 (2 holes per inch) pitch. Sizes range from 1⁄4" – 1″ diameter, capable of accommodating even the largest projects that come your way. Special cut wire, along with spools of wire and calendar hangers, are available upon request.

When your projects require a sophisticated, high-end bindings solution, look no further than Double Loop Wire! Perfect for presentations, calendars, proposals, and more, double loop wire provides a secure bind and easy readability.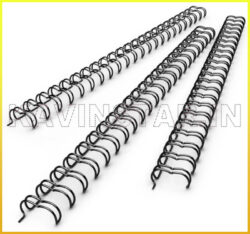 Wire-o binding is one of the most common binding methods for printers, binders, and businesses are creating executive style books and magazines. The double o binding solution offers a professional look, unlike any other binding method. It is available in a wide variety of colors- most common being black, white & silver. Documents and books bound with twin-loop wires are able to open up a full 360°.