| | | | |
| --- | --- | --- | --- |
| Size | Cutting Capacity | Min Price | Max Price |
| A4 | 10-12 Papers | Rs 1500/Piece | Rs 3200/Piece |
| A3 | 10-12 Papers | Rs 2500/Piece | Rs 4500/Piece |
| 18 Inch | 350-400 Papers | Rs 11500/Piece | Rs 19500/Piece |
https://kavinstar.in/product-category/paper-cutting-machines/
Get Manual Paper Cutting Machine Price in Chennai from Delhi. Best Heavy Duty Paper Cutter Machine Manufacturer, Wholesalers, Distributor, Exporter, Dealers in Delhi, India.
18″ Model KVR-A200
Here is Given KVR A200 Perfect A4 and A3 Manual Paper Cutting Machine Price in Chennai. The latest production, pressing paper tightly, easily cutting and changing the blade. The cutting rate is very high.
The hardness is up to standard as we introduce excellent material, Sharp knife-edge, Durable using. The base and rack molding by one time accurate cutting, regular cutting surface.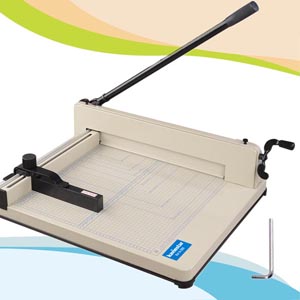 A3 Hand Operated Manual A3 Paper Cutting Machine
Cutting Capacity: 250 Sheets at time (70 GSM)
Size: A3 (18 Inch Blade Size)
Cut Height: 40 mm
Weight: 25 KG. (Approx.)
Dimension: 72x45x20 cm
Capable to Cut: Paper, Photo, Pvc Products, Suitable for cut Thick /Strong Paper Card, etc.

What to Look for in a Guillotine Cutter
Not all cutters are made of good quality, although most of them will do the job. Some cutters will give you a neater and sharper edge than others.
There are some points to consider when buying your guillotine paper cutter:
Durability: The blade should be of high-quality steel as with most cutters there is no way of replacing the blade if it becomes blunt. Neither should the cutter lift at one side when you press the blade down to cut your paper. The cutter base should feel solid and stable and not 'plastic'.
Sharpness: The blade should be sharp enough to cut through the number of paper sheets it is designed for. The last thing you want is a blade which does not cut cleanly and leaves your paper looking as if it has been torn. A sharp blade will mean that the paper does not move when you cut it, and a good cutter should be able to cut through up to 10 sheets.
Line Indicators: Most people cannot draw in a straight line and neither will they be able to cut a straight line. The best guillotine paper cutter will have straight lines and squares already marked so than when you pace your piece of paper on it you can see right away that it will be a straight cut. The base of the cutter should have a graph design set out on it so you can see exactly where the straight line is.
Safety Feature: A good cutter will have some inbuilt safety features. There needs to be a guard over the paper while you cut it. It should be virtually impossible to get your fingers in the way of the blade. The blade should also settle in a safe position when you are not using it. It should ideally be tucked safely away next to the side of the cutter, so the blade is never exposed.
Price: While a guillotine paper cutter may not be on your list of essential gadgets, it is something that you would like to last for many years without falling apart after a few usages. Buying cheap is never a good idea, but you can find some excellent products in the mid-price range which will suit what you need it to do and not break the bank.
If you Want Personal use manual paper cutting machine price in chennai pls call or whatsapp us +91 9953968896 (In Hindi language) at office hour Monday to Saturday (Sunday Off) Time 10am to 5pm
People also ask
What is the best paper cutting machine?
How does a paper cutting machine work?
What is a guillotine paper cutter?
How do you cut a lot of paper at once?
[TheChamp-Sharing]