Join hands with Industrial Paper shredder Machine Manufacturer in Delhi at the best prices. Call us for the best paper Shredder machine manufacturers in India. Telephone ☎️ 01140230655, Mobile 📱 & WhatsApp 9953968896.
Industrial Paper Shredder Machine Prices
| | | |
| --- | --- | --- |
| Shredding Capacity | Motor | Approximate Price |
| 22-27 Sheets at time | 1 H.P. | Rs 65000 per piece |
| 40-45 Sheets at time | 2 H.P | Rs 80000 per piece |
| 50-60 Sheets at time | 3 H.P. | Rs 190000 per piece |
| 90-100 Sheets at time | 5 H.P. | Rs 280000 per piece |
Industrial Paper Shredding Machine Price List

Do you have stacks on stacks on stacks of paper that just need some good old shredding? This article is for you then. Read on to find out how to make those stacks disappear into small little particles in no time.
REGULAR SHREDDER VS INDUSTRIAL SHREDDERS
Every office or even household should have a paper shredder for destroying the regular sensitive documents throughout the day. But when you have big amounts of paper to shred, for example, annual reports at the end of the year or old archives, and you don't want to give them to some shredding services since the information can get compromised. It is recommended for the large office departments, warehouses, facilities, or industries to have at least one heavy-duty industrial paper shredder.
THE UPSIDES OF HEAVY DUTY INDUSTRIAL SHREDDERS
Industrial shredders are powerful and large machines that can work continuously and can shred hundreds of pages without any problem. Industrial shredder machines are also known as disintegrators and they are different than other home or office shredders. Professional shredders provide you with bulk shredding, allowing you to cut thousands of documents without limited run times and no cooling downtime. They are powerful enough so that the whole building can use them all day. They can shred crumpled paper, large files, binders, notebooks, cardboard, etc.
CHARACTERISTICS OF INDUSTRIAL GRADE PAPER SHREDDERS
Characteristics of professional paper shredders are big waste bins with a capacity of 50 gallons or more, they have wide throat entries and some of them even have a conveyor system installed that moves paper into the cutter automatically, and work tables in front of the shredder so you can put all the materials on it. Both shredder and waste bin are usually on casters so moving around is easier.
This article will present you with industrial paper shredders for sale. The industrial shredder manufacturers included are SEM and HSM for the large industrial heavy-duty shredders and Kavinstar for small industrial heavy duty shredders.
JUMBO SERIES S-25 INDUSTRIAL PAPER SHREDDER
This is a large industrial heavy-duty shredder measuring 600x495x885 mm. It is shipped by truck but keeps in mind that the inside delivery depends on the sellers shipping rates and policies. It is made in India and comes with a 1-year manufacturer warranty. It comes in brown and gray and it is obviously not made for offices. The waste bucket has a 70-liter capacity allowing infrequent emptying.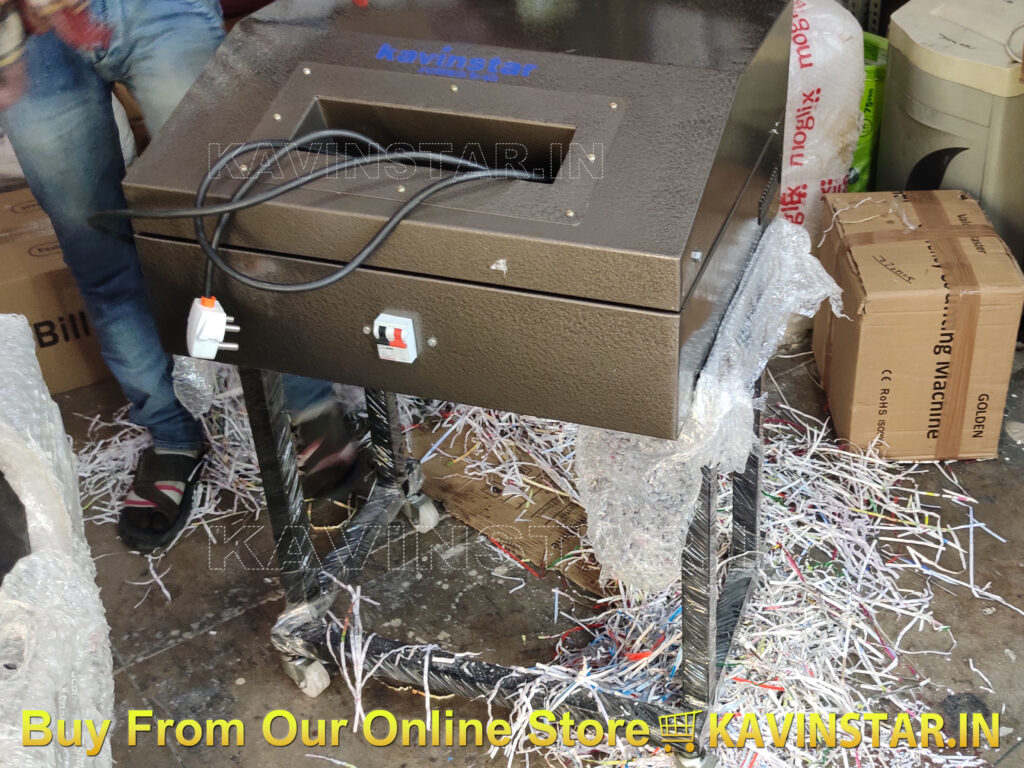 It can handle high workloads easily with its 22-25 sheet capacity. Being an industrial strip shredder it offers medium security, but thanks to that it is faster than its cross-cut counterparts. It can shred at a speed of 43 fpm which makes it very fast. Not only is it an industrial paper shredder it is also an industrial cd shredder, but having the ability to also shred paper clips, staples, credit cards, floppy disks. It has 4 motors that allow for a continuous mode of operation which is why this industrial cross-cut paper shredder has seemingly no downtime or cooldown. This shredder is amazing for large workloads in a big dockyard or something similar which has high amounts of documents that don't require a great deal of security.
RINO SERIES S-60 INDUSTRIAL PAPER SHREDDER
This professional paper shredder is designed for centralized heavy-duty shredding since it can accept up to 60 sheets of paper in a single pass through a 300 mm feed throat. The blades will cut the paper into strip-cut pieces and you can choose the particle size, 8mm. This shredder can also destroy hard-bound documents, including 3-ring binders and paddlewheel crushers will destroy crumbled paper and corrugated boxes and of course, it can destroy CDs and credit cards. It has an extra-large feed table and optional conveyor belt system and the user can adjust the height to itself.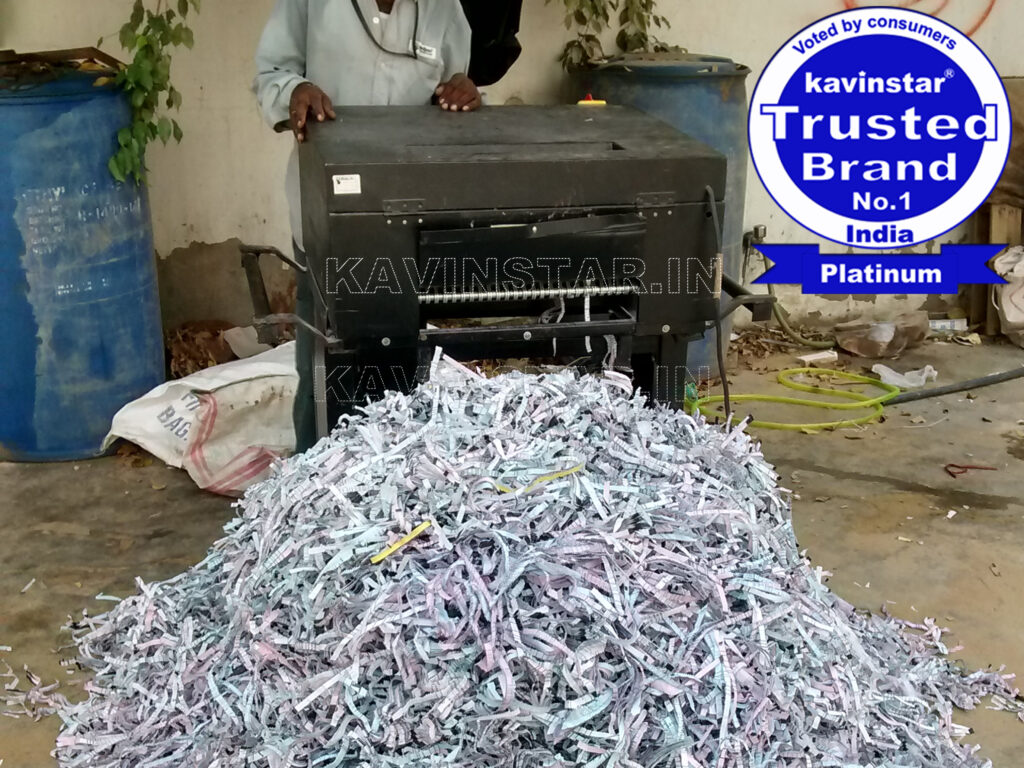 The Control panel has three buttons – Forward, Stop and Reverse commands for easy use and they can be key-locked. Besides main switches, it also has an emergency stop button that will turn off the shredder if something bad happens. In the case of paper jams, it has Auto reverse and a refeed feature that will remove jams with ease. This industrial shredder is made in India. You can also make voltage and horsepower upgrades. Shredded paper waste is direct out the backside of the shredder.
Industrial Paper Shredder Manufacturer in India
Industrial Paper Shredder: Paper Shredder Machine is a heavy-duty shredder with a high capacity for shred-able material, huge bin size, and robust cutting blades for non-stop and troubles free shredding on a regular basis. These Industrial Paper Shredder are also known as commercial shredders due to the high volume of commercial paper shredding. Industrial Shredders are often low security and can be strip-cut shredders or cross-cut shredders. Please Call The Arun Automation at Telephone Number 01140230655 during office hours.
Book Industrial Paper Shredder Machine in India with us
Industrial Paper Shredder: We are the leading manufacturers, suppliers, exporter, dealer for industrial shredders Machines in Delhi, India. With growing communication and information disperse can lead to serious consequences. This Industrial shredder Machine is an ideal tool to protect information from leaking to the wrong persons. Industrial shredders are ideal to manage all the waste, useless documents finding clear and secure trash. It also helps to organize all the document wastes properly shredded and disposed of. Dependable shredders can save from the risks of theft of information, scrupulous design copies.
Features of Kavinstar Industrial Paper Shredder:
Totally mute shredders, Zero Noise even during operation
Rigid Steel gears with sharpened blades give long life cutting performance
Integrated Cutters (machine set) in select models are available.
5yr cutter warranty
A heavy-duty motor that can take the right load for years together
Power efficiency due to electronic control of the Shredder
Faster shredding due to higher RPM
Elegant Aesthetic looks which suit corporate and business offices
ISO, CE & RoHS Certified
Keep things moving with a dependable office shredder. These shredders are ideal for use in a department or mid-size office and are powerful enough to keep up with frequent shredding needs. Features include continuous operation, Non-stop Jam Free technology, various cut types, and the ability to shred documents, credit cards, and discs. Place a Maxsell office shredder in your workspace to keep all confidential information secure.
Industrial Paper Shredder Machine Manufacturer in Delhi
Outstanding Features of Kavinstar industrial Shredders Machine automatically disables shredder when hands touch the paper opening area, helping to protect more than just your identity.
Industrial shredders Machine 15 sheets with 3 X 20″mm cross-cut particles for enhanced security on highly confidential documents to help keep your information safe.
Also Shred Staples, CD, credit cards, paper clips & staples
Shreds for up to 10 minutes before a 30-minute cool-down period is needed.
Ultra-quiet performance for shared work-spaces.
LED bin-full indicator eliminates the need for frequent emptying with high-volume shred jobs.
Energy Savings System provides optimal energy efficiency 100% of the time-in use and out of use.
Electronically controlled protection gives higher protection.
Bin Full Bin Out Indicator
Anti-Jamming Overload Detector
Temperature Protection Indicator.
Nitriding steel cutter for long durable shredding life.
Easy transit Castor Wheels
Electronic Auto Start / Stop
Request Callback
Video Demo of Kavinstar Jumbo Series Industrial Paper Shredder
Video Demo of Kavinstar Rino Series Industrial Paper Shredder
paper katran machine in Pune, katran machine price, paper katran buyers, PAPER KATRAN MACHINE PRICE IN INDIA, paper katran buyers, Buyers of Waste Paper, Waste Paper Buy Requirements, PAPER KATRAN MACHINE IN DELHI, Industrial Shredders, Heavy Duty Paper Shredder Price in Delhi, Paper Katran Machine, Paper Katran, Industrial Paper Shredder Machine Manufacturer in Delhi.