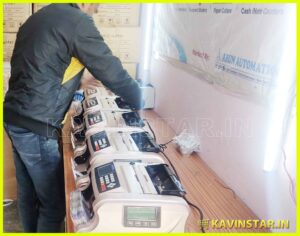 https://kavinstar.in/product-cate…
Money counting machines with higher speed, effective working, and affordable prices in this list is ooze Currency Counting Machine. It has the feature to detect detecting UV and MG while counting notes. It can work with all the currency and it supports the 2000 rupees note also.
Apart from design, this product has an automatic start and stop batch which makes it work without any time wastage. It has two small displays to count the number of notes and tell you about a few other things that's why you can rely on this product.
Features 
Easy to use Design with auto batch counting
Automatically detect UV and MG while counting.
It has a UV sensor, Magnetic sensor, and watermark sensor.
It also automatically detects half note during the counting.
Interested buyer Call or WhatsApp 9871572837, Tel: 01140230655, Any Inquiry about product or service call us between 10 am to 6 pm Mon- Sat (Sunday Close). Add: 73 & 74, DSIDC Complex, Bapu Park, Kotla Mubarakpur, New Delhi 110003