Buy Mix Value Cash Counting Machine in Gurugram. This note counting machine provides one of the most aesthetic and advanced design in today's market. An equally impressive set of features adds on to the overall value to earn it a favorable reputation among current users.
Contact Us Tel. 01140230655, Mob. & WhatsApp 9818409728 for more details visit our website https://kavinstar.in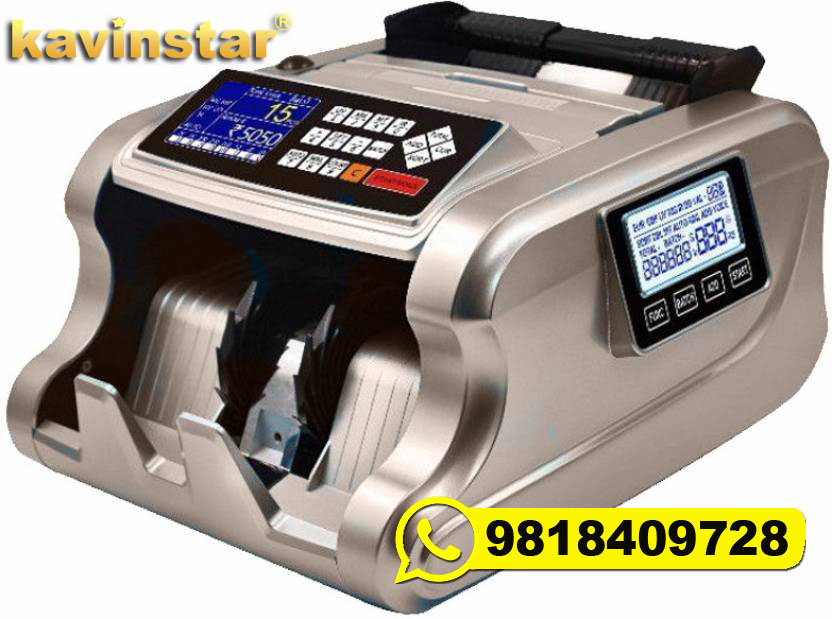 Let's explore what it has in store.
https://www.youtube.com/watch?v=7BfaIZqaPjI&t=6s
A sleek, black, and gray casing house a familiar setup of the main components. The top holds the hopper at the backend. where as all the controls and displays are set at the front end.
The display design eliminates the need for multiple displays as it is retractable and can be rotated in space.
The display type is LCD and provides ample space to all the information to do with counting modes. detection systems, and all the features to do with automation.
Five control buttons to the display to offer control of all the functions relating to counting modes. start and stop automation as well as detection systems. The Kavinstar note counting machine comes with a separate display.
Main Features
Capacity: Up to 300 notes. Supports all INR notes including recent 50, 200, 500, and 2000 notes.
Speed: 1000 notes/ minute.
Counterfeit and defective note detection: It incorporates Motor Thread (MT), UV, and Magnetic technology for a comprehensive detection system.
Counting Modes: Combines all three modes; Value, Add, and Batch.
Display: It comes with inbuilt and separate LCD displays to maximize flexibility and convenience.
Automation features: It has automatic self-check, start and stop functionality.
Warranty: 1-year term.
PROS (What we liked)
Durable and aesthetic design: The machine comes in a beautiful design. without sacrificing the much-needed solidity for daily medium-heavy use.
Comprehensive counterfeit and defective note detection system: It adds advanced MT technology. The usual features for seamless detection capabilities.
User-friendly: Two highly convenient displays. a simple layout of controls and automated functions provide for simplified user experience.
Get Cash Counting Machine in Gurugram
Apart from this, we advise you to be aware of duplicate brands of the same name. Only choose the products that have claimed to be and have written 'Sold by Arun Automation' on them.
For Bulk Enquiry / Retail Enquiry Please contact (in Hindi) by WhatsApp or Call to Mob. #8587870939 or #9953968896, Tel. #01140230655, Add: 73, DSIDC Complex, Kotla Mubarakpur, New Delhi-110003 (Office Hour 10:00 am to 06:00 pm, Working Days Monday to Saturday, Sunday Closed)
[TheChamp-Sharing]