Newspaper Katran Machine
Newspaper Katran Machine or Industrial Paper Shredders Large Shredding Systems. Kavinstar newspaper Katran Machine and balers tackle the difficult task of getting rid of bulky items quickly, efficiently and securely.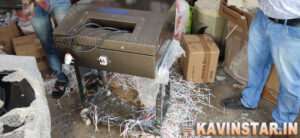 These high-powered models take more than 100 pages that are loose, in binders, folders or hardbound, and turn them into measly pieces of paper. Certain models come equipped with an attached baler, which instantly turns those strips of paper into a compressed and condensed block for easy disposal. With many different industrial shredder options to choose from, be sure to contact one of our Data Destruction Experts today to learn more about the different models and cutting technologies that would work best with your shredding needs.
Kavinstar carries whatever size and format shredder you need. Consider increasing productivity and saving time and money by adding an Industrial Central Shredder to your business today. If your company or business is looking for a heavy duty, high volume, and high capacity Industrial Cross Cut or Strip Cut Shredder, you have come to the right place. We carry a wide range of level 2 strip cut and level 3 cross cut industrial shredders
Strip cut katran machine handle staples, paper clips and other non-paper items better than other types of paper katran. Cummins Allison strip/ribbon cut models generally handle more sheets per pass than equivalent cross cut units. Reasons to consider a heavy duty katran machine at your business: • Compliance with federal privacy laws • Confidential business and employee documentation • Concerns with identity theft • Cost of outsourcing services • Peace of mind Tips for selecting the right katran machine: • Assess your volumes and plan for growth—go larger than you think you need • Determine your level of security needs—shred type is important • Ask about onsite service support When selecting a commercial paper katran machine, it is important to understand exactly what types and sizes of paper you will be shredding, in order to determine the correct throat width size for your needs.