Velo Sure Binding Plastic Strip
Velo Sure Binding Plastic Strip provides a strong, secure bind for even the thickest of documents. Popular for scholastic and legal applications, VeloBind, or SecureBind, is a quick and easy-to-use table-top bookbinding process. Velobind and Surebind spines are a fast and secure way to bind your documents.

VeloBind Strips are 11-pin hot knife strips that, in conjunction with thermal VeloBind systems, quickly and securely bind books up to 3″ thick. Simply punch your documents, insert your binding strip, and activate the machine to complete your project. VeloBind Strips are available in 1″, 2″, and 3″ sizes and in a variety of colors to suit your unique project needs.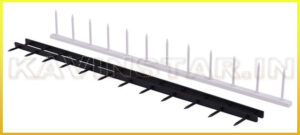 Kavinstar offers multiple sizes to hold a range of page counts. Use the chart below to find the right size binding spine for your project. Velobind Binding Machines use Velobind Strips to securely bind your documents and give them a professional look. We carry the full line of Hot Knife (tamper-resistant) and Reclosable (4 Pin) Velobinding Machines, as well as the binder tools. Don't forget to get your Velobind Strips and Binding Presentation Covers for everything you need to Velobind. Once you've velobound your documents with the strip sets, they are ready for office use, storage, mailing, and legal documentation. We offer a wide range of custom-made soft and hard thermal covers, presentation folders, cover sets, and tax folders.