Thermal Binding Folder Cover
Thermal Binding Folder Cover – Take your reports and presentations to the next level with our selection of Thermal Covers. Affordable, versatile, and easy to use, the thermal binding allows operators to create professionally-bound documents without the hassle of punching and traditional binding. A heat-activated adhesive on the spine allows documents to be placed inside and run through a thermal binding machine to create a secure, seamless, long-lasting bond.  Thermal covers are a fast and easy way to bind projects in a range of sizes. Use the chart below to find the right-sized cover for your needs.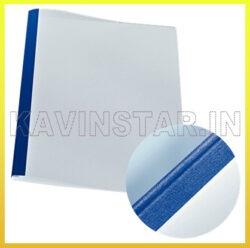 Kavinstar is a leading manufacturer and supplier of low-cost and high-quality thermal binding machines and covers. We're dedicated to making thermal binding not only the most attractive form of booklet binding but also the most affordable. We offer a wide range of thermal binding products and equipment. The Thermal Binder Sk 5000 & Sk 2008 is a powerful yet compact document binder that can be used on its own or complement our larger machines. The 2.5-inch binding plate accommodates documents up to 14 inches wide, and with the adjustable guide has the capacity to bind multiple documents simultaneously providing you quick turnaround when you need it.