Spiral Binding Plastic Coil
Spiral Binding Plastic Coil is one of the main products from our complete range of products. Binding Spiral is one of the most demanded products which will available with us on a regular basis in white color and on customer demand various colors available. Binding Plastic Spiral Coil is manufactured with PVC materials. Here we want to give various details about the Binding Supplies.

Plastic spiral coils are used in conjunction with your binding system to create high-quality, durable documents. These spines allow your materials to lay flat or be folded back-to-back, which is excellent for taking notes and quick page-turning. Available in mind a wide variety of sizes, this binding style offers a high level of versatility.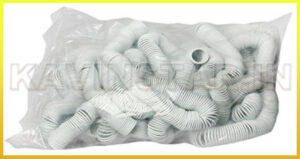 This binding style is durable and is often used for professionally bound documents that need to be mailed. The coil used for this style of binding is made of high-quality PVC plastic and offers a secure high quality and professionally bound book while binding documents up to 2" thick. Spiral coil binding spines are also available in more colors and sizes than other binding styles.