Get All Kind Paper Shredder Machine Price in Delhi. Manufacturer, Wholesalers, Importers, Distributors, Suppliers, Dealers, Service Provider of Home, Office, Industrial Paper Shredder Machine in Delhi, India.
Contact
011-40230655,
& WhatsApp +918587870939 for Best Rate. Look no further – We have the lowest prices on the web. We've done the market research for you to offer the lowest Paper Shredder Machine prices online. Get Best Deals on Paper Shredder Prices, Models & Wholesale prices in Delhi, Gurugram, Noida, Ghaziabad, Faridabad.
Paper Shredder Machine Price in Delhi
| | | |
| --- | --- | --- |
| Shredding Capacity | Min Price | Max Price |
| 5-10 Sheets at one time | Rs 4500/Piece | Rs 10000/Piece |
| 10-20 Sheets at one time | Rs 12500/Piece | Rs 25000/Piece |
| 20-30 Sheets at one time | Rs 25500/Piece | Rs 90000/Piece |
| Above 30 Sheets at one time | Rs 90000/Piece | Rs 290000/Piece |
https://kavinstar.in/product-tag/paper-shredder-machine-price-in-delhi/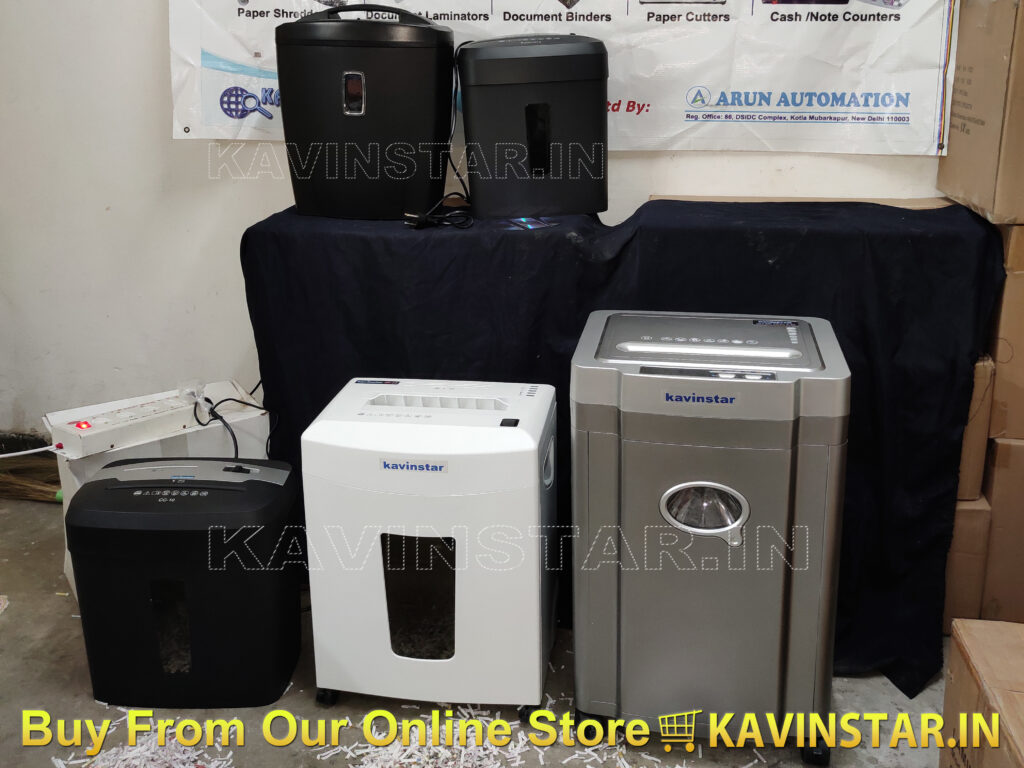 And we have been in business providing fast, professional, and complete service. Find here Paper Shredding Machine, Departmental Shredder, Paper shredder, suppliers, manufacturers, wholesalers, traders with Paper Shredding Machine prices for buying.
Buy Paper Shredder Machine in Delhi, Gurugram, Noida, Ghaziabad, Faridabad
Paper Shredder Machine and Other Office Equipment Made in India – There is a growing trend in the Indian market right now of people looking for office equipment made in India. This is driven by a sense of national pride and a desire to help bolster the local economy. At Kavinstar India we actually offer a really nice selection of products that are made in India. Many of these products are actually some of the highest quality and best supported that we offer.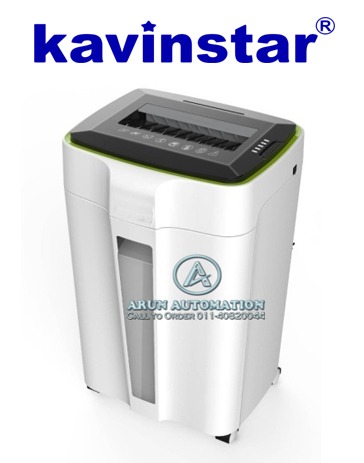 Before I go too much further into our Indian-made products at Kavinstar, I would just like to say that we offer many fine pieces of equipment that aren't made in India. To my friends outside India, it should be known that my favorite paper cutters and shredders are made in Germany. The point of this article, however, is to help people in India find Indian make products for the sake of supporting Indian companies.
What I would like to do is list off some of our most popular manufacturers and their products that are made in India.
At Kavinstar Store (https://kavinstar.in) we offer a great selection of paper shredders. You can find our entire selection of industrial paper shredders here and all our paper shredders here.
Get Paper Shredder Machine Price in Delhi
Get Best Deals Contact #01140820044 OR #9871572837 or #9953968896 CONNECT WITH WHATSAPP #8587870939
VISIT: https://kavinstar.in/product-category/paper-shredder-machine/
Click Above Link for All Model Prices
OFFICE USE 15 SHEET MICRO CUT CONFIDENTIAL OFFICE PAPER SHREDDER MACHINE WITH CD, CREDIT CARD DESTROYER
Types of Paper Shredder Machine:
The three most common types are; strip-cut, cross–cut, and micro-cut. The strip-cut machines shred long vertical pieces, as cross–cut adds horizontal cuts to make the shred pieces even smaller. Micro-cut machines shred to an even higher level of security essentially rendering your documents to tiny particles.
Types of shredders:
PROS:
Micro-cut produces nearly 8X more particles than cross-cut
Pullout basket comes out and goes back in easily
Large 8.9-gallon capacity bin
Caster wheels for easy mobility
Paper shredder machine price in DELHI.
Best paper shredder machine price in Delhi.
Departmental paper shredder machine price in Delhi.
Industrial paper shredder machine price in Delhi.
Commercial paper shredder machine price in DELHI.
Office paper shredder machine price in Delhi.
Home paper shredder price in Delhi
MICRO-CUT VS CROSS-CUT
The biggest advantage of the Arun Automation over my old MC15 is the micro-cut feature. I've gradually upgraded from strip cut to cross-cut, and now to micro-cut. The difference in how small the pieces are for micro-cut over cross-cut is tremendous. Here's a breakdown of the different cut types: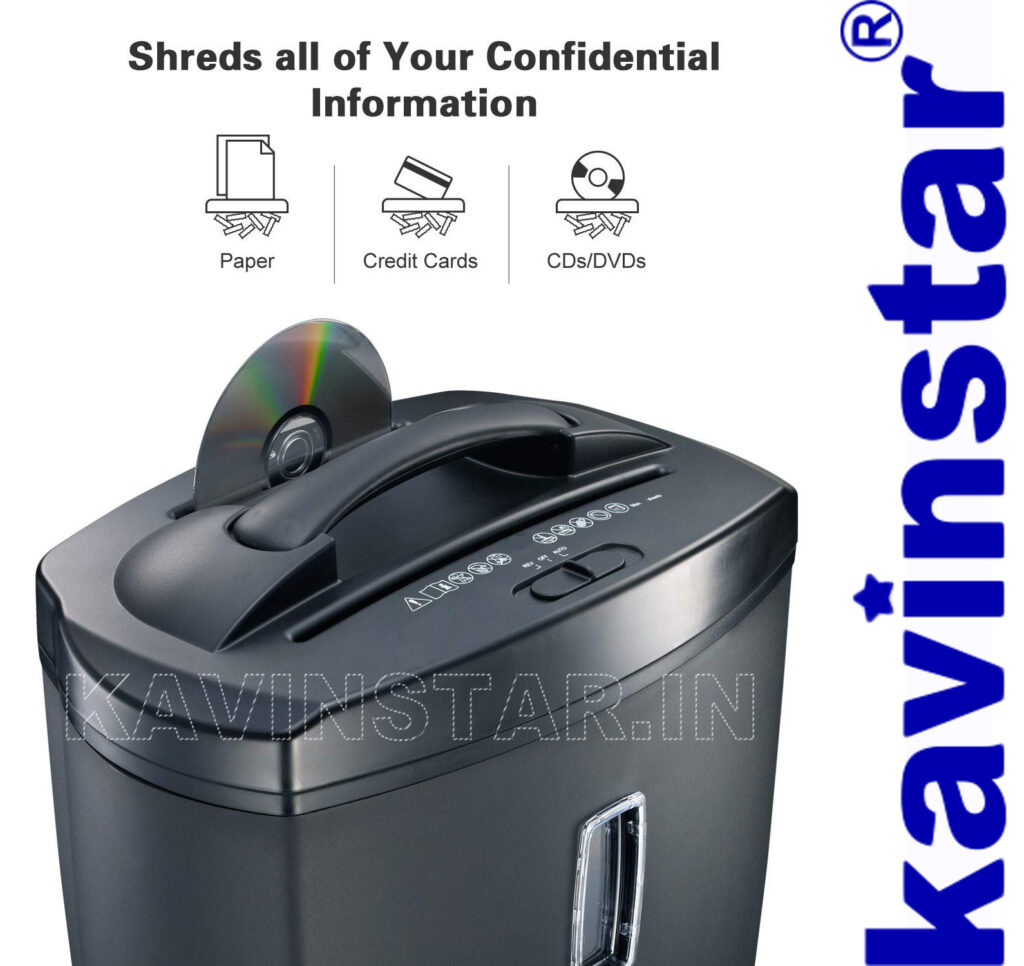 strip cut: security level 2, 39 strips per 8.5″ x 11″ sheet
cross-cut: security level 3, 399 particles per 8.5″ x 11″ sheet
micro-cut: security level 4, 3,000 particles per 8.5″ x 11″ sheet
That's almost eight times the number of particles from cross-cut to micro-cut. When shredding with my cross-cut shredder, I made sure to shred sheets of paper perpendicular to the print. The cross-cut pieces were long enough that shredding parallel to the print would still allow some information to be easily read. With micro-cut, that's a non-issue. I can shred receipts, bills, and other documents at any angle and the pieces come out extremely small. There'd be no way for anyone to put these pieces of paper back together.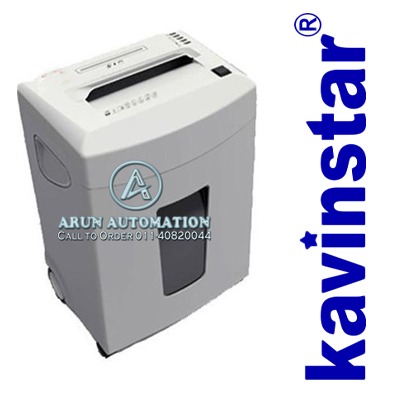 NOISE
I measured the noise of my old Kavinstar MC15 with an American Recorder SPL-8810 sound level meter and got 91.8 dBA. The Arun Automation, which benefits from the enclosed basket design. Measure at 82.2 dBA — almost a full 10 dBA quieter than the Kavinstar. The ambient noise level was about 34.7 dBA and I measured both shredders right near the mouth.
DESIGN & FEATURES
The pullout basket is a sizable 8.9 gallons, which holds a ton of micro-cut pieces. It removes easily when you need to empty it and goes back in pretty smoothly as well. Removing it also activates a sensor that automatically disables the motor for added safety. The three-position auto/off/reverse switch works well. But is the only way to keep the shredder off, other than unplugging it. The Kavinstar has a separate safety lock to help prevent yourself. Your kids from accidentally activating the shredder. I always unplug the shredder when I'm not using it. But if you like to keep yours plugged in. Just keep in mind that there's no additional lock.
I also want to mention that the green LED power light on the Arun Automation is extremely bright. I don't recommend looking straight down at it. Which might be hard to do if you're standing over it while feeding paper through it.
CONCLUSION
The Arun Automation 15-sheet micro-cut shredder is a fantastic value. The micro-cut feature alone is worth the small premium over standard shredders. Like the Kavinstar MC15. Add the quiet operation and large. Easy-to-empty waste bin and it's almost a no-brainer.
Authorized Dealer & Service Provider: Arun Automation, Ph.#01140820044 or #9871572837, Add.# Office No.73, DSIDC Complex, Kotla Mubarakpur, New Delhi 110003
NEARBY; SOUTH EXTENSION 1, DEFENCE COLONY, LAJPAT NAGAR, INA, LODHI ROAD ETC.
Email# [email protected],
Sheet Capacity – While many office shredders are capable of shredding 20-40 sheets of paper at a time, most industrial paper shredders can shred in excess of 50 sheets of paper at a time or more. Some can even shred in excess of 500 sheets of paper at once. Pretty impressive….right? As is the case with most shredders, industrial strip cut shredders typically cut a lot more paper per pass than an industrial cross cut shredder.

How to choose best paper shredder
The best shredders are more important than ever for making sure that our private and sensitive documents are disposed of securely, especially as cases of Identity Theft fraud continue to rise at an alarming rate.
While shredders may not be the most glamorous of tech, they are still incredibly important, and there is now a huge range of shredder makes and models. While many people may think of shredders as big and bulky (not to mention noisy) devices that take up a huge amount of room, the best shredders can easily fit into any modern office or home.
Advance features of paper shredders
Shredders are also a lot more affordable than they once were, and many include additional features, such as advanced shredding techniques and the ability to safely shred credit cards, for instance.
Meanwhile, getting a large capacity shredder is ideal for busy offices, as they can hold more waste paper, meaning you don't have to empty them so often.
Not only do the best shredders ensure your privacy and security, but many businesses require them, especially if you're handling private data about your customers.
Want your company or services to be considered for this buyer's guide? Please email your request to arunautomationindia@gmail.com with the URL of the buying guide in the subject line.
FAQs
What is paper shredder?
Paper shredder is a mechanical device that has strong steel blades, powerful enough to cut through a stack of paper, turning it into small pieces that are unable to read. The main purpose of the paper shredder is to destroy paper to protect any information written on it, no matter is it for business purposes or for home use.
Why should you get a heavy-duty paper shredder?
If you have a large number of documents to shred every day, either at home or at the office where you will share the shredder with other people, you should think of getting a heavy-duty paper shredder. They are usually large paper shredders that can take big loads of paper alongside staples, clips and they can even cut credit cards and CDs without any problem. Besides big capacity and strong steel blades, these shredders are able to work for a long time without stopping. That will give you more than enough time to shred all sensitive documents or junk mail without making a break or being interrupted.
What are different ways of cutting paper by shredder?
There are three main types of cutting the paper, and each provides you with different levels of protection. The security level is expressed with DIN number which depends on the size and the number of shredder pieces. Strip-cut will shred paper into long thin strips, providing you with low-security level (P-1 and P-1), cross-cut has two sets of blades that cut paper vertically and horizontally, reaching medium security level (P-3 and P-4) and there is micro-cut that provides you with high and extremely high-security level (P-5, P-6, and P-7). Micro-cut takes the longest time to shred the paper and you will need to oil the blades more often than other types.
Why use a paper shredder?
A paper shredder is a device that is used to cut paper into smaller pieces in order to protect the information written on it. But paper is not the only media that you can store your data on. CDs and DVDs are in high use lately. If you just throw them away when you don't need them anymore, the information might end up in the wrong hands and can be held against you.
Can we shred CDs in a paper shredder?
Most paper shredders can cut CDs and credit cards, but if the shredder is not designed to do so its blades will deteriorate fast with a high risk of a jam or the motor overheating. That is why it is advisable to never shred media other than paper inside shredders that are designed for only paper.
This article will present you with CD shredders that are most popular on the market right now. They differ in specifications and performance, so we hope this article will help you to choose the one that fits your needs the best.
Is a paper shredder useful?
Yes, due to its features like cost effective, less time consuming, shreds a variety of papers and cards, and many so on, paper shredders are quite useful.
What all can paper shredders shred?
Depending upon the shredder, it can shred staple pins, paper clips, credit cards and some machines can shred a compact disc as well.
Why is a paper shredder required?
A paper shredder is an electronic machine used to cut paper into either strips or fine particles. Government organizations, businesses, and private individuals use shredders to destroy private, confidential, or otherwise sensitive documents.
How do I choose a paper shredder?
Please evaluate the number of sheets you'd shred on a daily or weekly basis. Start from there and look for models that can shred that number of pages. However, you can always seek advise of paper shredder dealers in Delhi.
What are the different types of paper shredders?
Paper shredder dealers in Delhi deal in the machines that are classified according to their shredding capacity and size into home, office, industrial size, and high-security.
Do paper shredder dealers in Delhi accept bulk orders?
Yes, they do. Place the order with the dealer and please give them adequate time to deliver your order as per your requirement.
What is the price of a paper shredder?
The approximate starting price of a paper shredder is approximately Rs. 5,000.
Best Paper Shredder Machine Price in Delhi
StoK paper shredder machine price in Delhi
Paper Shredder Machine Repair in Delhi
AmazonBasics paper shredder machine price in Delhi
Office Paper Shredder Machine Price in Delhi
Office Paper Shredder Machine Repair in Delhi
Paper Shredder Machine Service in Delhi
Office Paper Shredder Machine Suppliers
Personal Paper Shredder Machine Price in Delhi
Cross Cut Paper Shredder Machine Price in Delhi
Paper Shredder Machine Blade Price in Delhi
Paper Shredder Machine Parts Price in Delhi
Industrial Paper Shredder Machine Price in Delhi
Industrial Paper Shredder Machine Repair in Delhi
Industrial Paper Shredder Machine Service in Delhi
Metal Body Paper Shredder Machine Price in Delhi
Industrial Paper Machine in Delhi
Industrial Shredder Machine Price in Delhi
Industrial Paper Shredder Machine Manufacturer in Delhi
Industrial Paper Shredder Machine Distributors in Delhi
Commercial Paper Shredder Machine Price in Delhi
Commercial Paper Shredder Manufacturers in Delhi
Commercial Paper Shredder Machine Price in India
Commercial Paper Shredding Machine Suppliers
Big Paper Shredder Machine in Delhi
Strip Cut Paper Shredder Machine in Delhi
Kores Paper Shredder Machine in Delhi
Buy Paper Shredder Machine in Delhi
Big Paper Shredder Machine Price in Delhi
GBC Cross Cut Paper Shredder Machine Price in Delhi
Confidential Paper Shredder Machine Price in Delhi
High Security Paper Shredder Machine Price in Delhi
Namibind Paper Shredder Machine Price in Delhi
Bambalio Paper Shredder Machine Price in Delhi
Goldstandard Paper Shredder Machine Price in Delhi
Mini Paper Shredder Machine Price in Delhi
Portable Paper Shredder Machine Price in Delhi
Kavinson Paper Shredder Machine Price in Delhi
Kavinson Paper Shredder Machine Dealers in Delhi
Kavinson Paper Shredder Machine Manufacturer in Delhi
Kavinson Paper Shredder Machine Wholesalers in Delhi
Kavinson Paper Shredder Machine in Delhi
Kavinson paper Shredder Machine Distributors in Delhi
Aditya Paper Shredding Machine Price
Aditya Paper Shredder Machine Price in Delhi
Aditya Paper Shredder Machine Dealers in Delhi
Aditya Paper Shredder Machine Manufacturer in Delhi
Aditya Paper Shredder Machine Distributor in Delhi
Aditya Paper Shredder Machine Wholesalers in Delhi
Aditya Paper Shredder Machine in Delhi
Kores Paper Shredder Machine Price in Delhi
Kores Paper Shredder Machine Price
Kores Paper Shredder Machine in Delhi
Kores Paper Shredder Machine Suppliers in Delhi
Kores Paper Shredder Machine Dealers in Delhi
Kores Paper Shredder Machine Distributors in Delhi
Kores Paper Shredder Machine Wholesalers in Delhi
Fellowes Paper Shredder Machine Price in Delhi
Fellowes Paper Shredder Machine Price in India
Fellowes Paper Shredder Machine Dealers in Delhi
Fellowes Paper Shredder Machine Suppliers in Delhi
Fellowes Paper Shredder Machine in Delhi
Gbc Paper Shredder Machine Price in Delhi
GBC Paper Shredder Machine in Delhi
GBC Paper Shredder Machine Dealers in Delhi
GBC Paper Shredder Machine Suppliers in Delhi
GBC Paper Shredder Machine Wholesalers in Delhi
Lada Paper Shredder Machine Price in Delhi
Lada Paper Shredder Machine in Delhi
Lada Paper Shredder Machine Wholesalers in Delhi
Lada Paper Shredder Machine Dealers in Delhi
Lada Paper Shredder Machine Suppliers in Delhi
Swaggers Paper Shredder Machine Price in Delhi
Swaggers Paper Shredder Machine Wholesalers in Delhi
Swaggers Paper Shredder Machine Dealers in Delhi
Swaggers Paper Shredder Machine Suppliers in Delhi
Swaggers Paper Shredder Machine in Delhi
Small Paper Shredder Machine Price in Delhi
Top Paper Shredder Machine Dealers in Delhi
Best Paper Shredder Machine
Antiva Paper Shredder Machine Price in Delhi
Antiva Paper Shredder Machine in Delhi
Antiva Paper Shredder Machine Dealers in Delhi
Antiva Paper Shredder Machine Suppliers in Delhi
Antiva Paper Shredder Machine Wholesalers in Delhi
Steadfast Paper Shredder Machine Price in Delhi
Steadfast Paper Shredder Machine in Delhi
Steadfast Paper Shredder Machine Dealers in Delhi
Steadfast Paper Shredder Machine Wholesalers in Delhi
Steadfast Paper Shredder Machine Suppliers in Delhi
Avanti Paper Shredder Machine Price in Delhi
Avanti Paper Shredder Machine in Delhi
Avanti Paper Shredder Machine Dealers in Delhi
Avanti Paper Shredder Machine Manufacturer in Delhi
Avanti Paper Shredder Machine Suppliers in Delhi
Avanti Paper Shredder Machine Wholesalers in Delhi
Gobbler Paper Shredder Machine Price in Delhi
Gobbler Paper Shredder Machine in Delhi
Gobbler Paper Shredder Machine Dealers in Delhi
Gobbler Paper Shredder Machine Wholesalers in Delhi
Gobbler Paper Shredder Machine Suppliers in Delhi