Buy Money Counting Machine at Best Price in India, Look no further – We have the lowest prices on the web. We've done the market research for you to offer the lowest Money Counting Machine prices online. And we have been in business providing fast, professional, and complete service.
Call or Whatsapp us +919818409728
| | | |
| --- | --- | --- |
| Brand | Min Price | Max Price |
| Godrej | Rs 13500/Piece | Rs 30000/Piece |
| Kavinstar | Rs 5500/Piece | Rs 28990/Piece |
| Hindvanture | Rs 4500/Piece | Rs 17500/Piece |
| Others | Rs 4500/Piece | Rs 37800/Piece |
https://kavinstar.in/product-tag/money-counting-machine-price-in-india/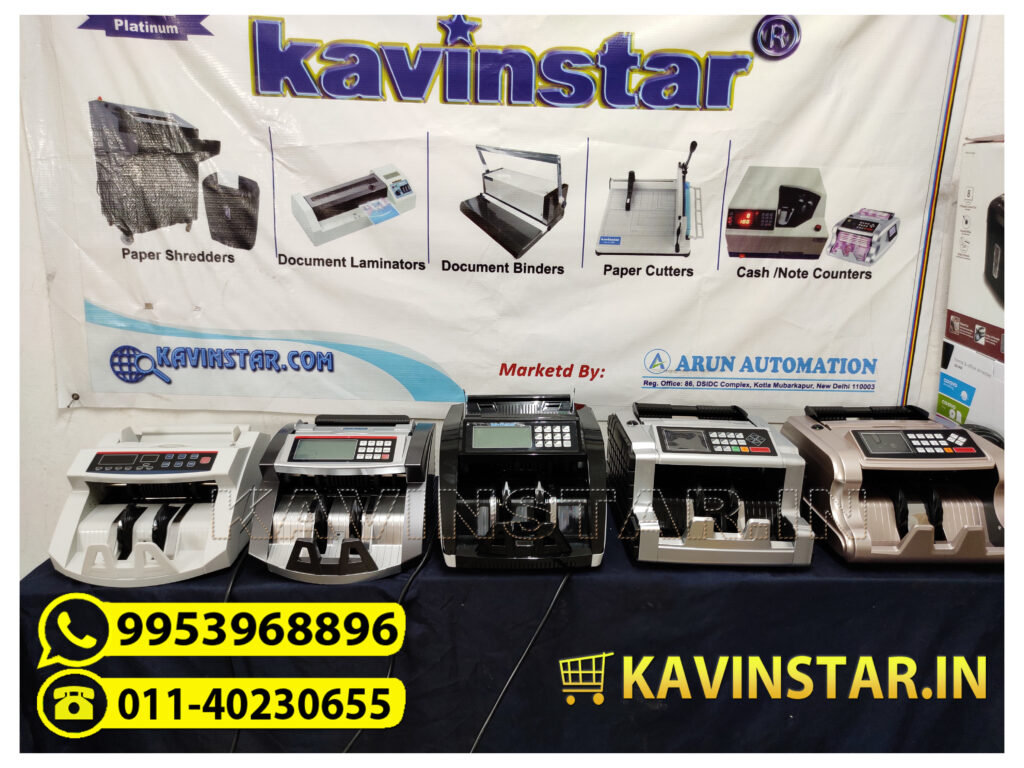 Money Counting Machine Price in India
Get Best Price on Money Counting Machine in India. Contact Telephone ☎️ 01140230655 or Mobile or WhatsApp 9953968896 or 9871572837 Between (Office Hours 10am-6pm Monday to Saturday).
VISIT: https://kavinstar.in/product-tag/money-counting-machine-price-in-india/
Click Above Link for All Model Prices
Best Use Currency Exchange Services, Shop, Store, Shopping Mall, Banks etc.
Money Counting Machines
We the India largest specialist in money counting machines.

From time saving loose note counting machine and bundle note counting machines. To highly accurate note counting machines. We carry a wide range of high quality, industry standard machines. That businesses can rely upon.

We stock money counting machines suitable for both high and low volume sorting, counting and bagging.
Our cash counting machines are suitable for a wide range of industries. From banks, restaurants and high street chains to smaller independent retailers.
Any business that handles physical money can start benefiting. From the increase efficiency and accuracy a specialist money counting machine provides.
Our cash handling equipment specialists are available to discuss your unique requirements and help recommend the best product.
From our huge range of note counting machines
Note counting machine with fake note detector,
Mix note counting machine
Fake currency detector
Note strapping machine
We can also help you detect and avoid counterfeit money.
Whether you are interested in a low cost, low volume combine note counting machine. A high volume specialize money counting machine, we only stock reliable. High quality machines suite to constant use in a retail environment.
Buy Money Counting Machine
In 2020, businesses and individuals have more choice than ever when it comes to counting their profits. Luckily there are a number of products on the market to help you do so quickly and accurately. But what are some of the top money counting machines out there? Let's take a deeper look into which machines might suit you and how they work…
You can check out the comprehensive list of all of the products we have listed and choose the best one that suits your needs and budget.
Questions & Answers on Money Counting Machines
How does a money counting machine work?
How do currency counters work? Simply put, currency counters operate by placing a stack of bills in place. The counting machine then pulls each bill through individually, instantly recognizing the number of times an internal beam of light is interrupted to determine the denomination and provide a total.
Do money counters detect fake money?
Money counting machines equipped with MG detection scan each bill for the magnetic properties in the traces of iron particles in the ink. … Additionally, the magnetic properties in the bills can degrade over time and constant use, resulting in real currency being falsely identified as counterfeit.
Why are money counters illegal?
Money counters aren't illegal and they are typically purchased by companies doing legitimate financial transactions. The DEA however worked under the assumption that if an individual wanted to purchase a machine, it was likely they were involved in money laundering or drug dealing.
What is the best money counting machine?
Best Overall: Kavinstar Technology Money Counter
The Kavinstar Technology Money Counter can work up to two continuous hours, counting 1,000 bills per minute. And it works quietly by using ultraviolet and magnetic sensors to minimize the noise levels. You can load the bills from the back of the machine in any direction.
What is a money counting machine called?
Banknote-only counters
Basic banknote counters provide a total count of the notes in the supply hopper. Some banknote counters can also detect counterfeit bills either magnetically and/or using blacklight.
How accurate are money counting machines?
Fast and accurate – Kavinstar cash counters have a 99.9% accuracy rate. Able to work with cash in multi currencies.
Can money counters detect fake money?
Money counting machines equipped with MG detection scan each bill for the magnetic properties in the traces of iron particles in the ink. Additionally, the magnetic properties in the bills can degrade over time and constant use, resulting in real currency being falsely identified as counterfeit.
Which is the best brand of currency counting machine in India?
Kavinstar and Godrej best brands currency counting machine in India.
Which is the best currency counting machine in India?
Kavinstar Value Master and Godrej Count Matic is best currency counting machine in India. with fake note detection and multi operation mode.
How To Clean Note Counting Machine?
Cleaning the Hopper, Stacker and the internals of the note counter machine is important. We cannot use water or damp cloth to clean this machine's internals as it's an electronic machine. You should take the micro-fiber cloth or anti-static brush to remove the dust and debris from the internal components. Optionally, you can use mild rubbing alcohol to effectively disinfect the machine and remove all the dust and debris remnants.
Can they detect counterfeit/fake notes during counting?
Yes. The note counting machines can easily detect counterfeit or fake notes during the counting process. The machine has a pretty fast speed, so the sensors scan the currency notes within a few milliseconds. So, they can detect counterfeit notes with ease during the counting process without any issues. The machine will automatically stop counting further after finding the counterfeit currency note.
Can we use it for counting any other paper as a ticket/voucher?
The usage of the money counter machine depends on the specifications. Most currency counting machines do not support paper countings like tickets and vouchers. There are only a few machines, which allow you to count the other paper. If you see the machine that can disable the counterfeit detection sensors, you can use the same to count any other papers like the tickets and vouchers with ease. Otherwise, it's not supported.
How often do you need service for the machine?
The currency note counting machines in India are durable and do not require frequent servicing. However, you should not ignore the machine's health and perform regular maintenance services. You can either take the machine to the service center once every few months, or every six months, or perform monthly service at home or office. Fortunately, servicing the note counting machine won't require any technical knowledge and won't consume any time.
Best Money Counting Machine Buying Guide
#1 – Speed
The speed of the note counting machine is a major feature that you should not ignore. The sole reason you are buying the note counting machine is that you want to get notes checked and counted faster than a human being. The average speed of the human is to count nearly 100-150 currency notes in a minute. But the machine is much faster than the same. The average speed of the note counter machine is somewhere between 900 notes to 1500 notes per minute. The industrial machines do have faster speeds than the 1500 notes per minute. If you are getting any machine with less speed than 900 notes per minute, then you should not consider buying that machine.
#2 – Type of Machine
There are two common types of note counting machines. The Portable and countertop machines are the two common types that you'll find useful. But due to the different use cases of these machines, you should consider your usage first and then choose the right one.
Portable note counting Machine – The portable note counting machine is smaller in size and has less speed. But such machines are portable, and you can carry them with you to different locations. It's quite easy to carry these machines and check the currency notes' authenticity wherever you go. The pigmy bank agents, money collectors, and even the bank employees will find the portable note counting machine useful. Such machines are similar to regular ones, but the size and speed are quite less.
Countertop Note Counting Machine – These are the most common types of machines you spot in the banks and other institutions. The countertop currency counter machines are very fast and have a huge hopper size. That means you can count thousands of notes within a few minutes with such machines. The countertop machines are heavy, and you cannot move them. So, they should be placed in one location. That might seem inconvenient for some, but that's why there are portable ones who want to carry currency counting machines with them.
#3 – Operation Type
Not all currency counting machines are multipurpose and feature-rich. The counting and operating type of machines are quite different. You should choose them according to your requirements.
Bills Counter – Some machines only count the number of currency bills without any denomination counting. Such machines don't show you the total amount of money but only show you the number of currency notes that it has checked. If you add mixed denomination notes in the machine, then it will not separate the denominations but will count all the notes as the same. It's good if you only get to use the machine for counting the same denomination counting notes.
Mixed Denomination Counter – The Mixed Denomination check machine is quite common all around the world. Such machines automatically identify and calculate the different denomination currency notes with ease. There are no issues with the accuracy as the machine automatically identifies the currency value and shows you the same on the counter.
Sorter – The sorter machine is a special type of note counting machine. It not only checks and counts the notes but also sorts them if their denomination is different. This is usually helpful in cases where you've put the bundle of notes for checking without sorting it out.
#4 – Counterfeit Note Detection
Nowadays, getting a counterfeit note in the bundle of notes is quite normal. We don't want to face losses due to counterfeit notes. So, the note counting machines do the job of identifying the counterfeit currency notes for us. With the different markers set by the currency issues, i.e., Reserve Bank of India, the machine automatically identifies the fake notes and removes them from the note stack. Also, you get to listen to the buzzer alarm when the machine detects a counterfeit note. With electromagnetic sensors, optical sensors, and Ultraviolet light, the machine identifies the fake notes. Ensure maximum security features for counterfeit currency detection in the machine you are going to buy. Otherwise, some counterfeit currency would make a way in your currency stacks.
#5 – Hopper
The Hopper is the space where you keep the currency notes for the machine to check. Bigger the hopper size, the more notes you can stack for faster counting. Having a big hopper size is important. But, please consider the counting speed with the hopper size. If the speed is very high, then having a big hopper makes sense. But when the counting speed is low, you should not worry about the hopper size, as stacking large amounts of notes will not significantly impact processing. In short, choose the machine that has a decent hopper size according to the counting speed. But having a bigger hopper is an advantage.
#6 – Accuracy
Accuracy is one of the biggest factors that you have to consider. Without accuracy in counting the notes and even finding the counterfeit notes, you may end up with losses. So, better get the machine with good user reviews about the currency in counting and finding the fake notes. Otherwise, it will not be a value for money purchase for your needs.
In Bottom Line
In India, electronic payment methods are new and still not widely adopte. That's why almost every business runs on cash. The people pay in cash, and businesses receive cash. Accuracy and speed matter a lot in cash transactions. The human error may cost some money to the business owner each time. To avoid such issues, it is essential to buy the best note counting machine in India for your business.
Anyone who frequently deals with large amounts of cash must have the best money counting machine. To count or sort bills quickly and accurately. When you're looking for the best money counters, consider whether you need a machine for counting cash. Then, narrow down your options base on your budget and the machine's capacity, speed and ability to detect counterfeit bills. Our list below includes the best money counters, including machines that count banknotes and machines that count and sort.
Final Words
Human errors are small, but they might damage the entire organization. The businesses that run entirely on the cash transactions may face huge losses due to the small human error. That's why it is a sensible idea to start using the best money counting machine in India for counting the cash. Having a helping hand from a human is quite okay, but rechecking the money with the automated machine is a great idea.
With the highly-advanced note counting machines in India, we can easily count the money and get the exact value of the same. As we recommended the best machines for money counting in India to a local business, we had to do the research first. We've shared the best products for money counting in India that we found while doing the research.
All of the products that we have listed in this post are affordable, powerful, and most accurate ones. Don't bother to do the research by yourself, as we've done it already for your convenience. All you have to do now is to check out the list and choose the best product that suits your needs and the budget.
[TheChamp-Sharing]