Buy Cash Counting Machine in Noida. (Telephone 📞 01140230655, Mobile 📱 & WhatsApp 9818409728) NP-150 LCD is a comparatively new brand in the market. With the NP-150 LCD Currency counting machine, small and medium-sized businesses can fulfill their currency counting needs. This machine comes with advanced counting technology for all currency denominations. This machine supports all currency notes without any issues, from the 10 INR note to the 2,000 INR note. It doesn't matter if the currency notes are old or new; the machine accepts all of them.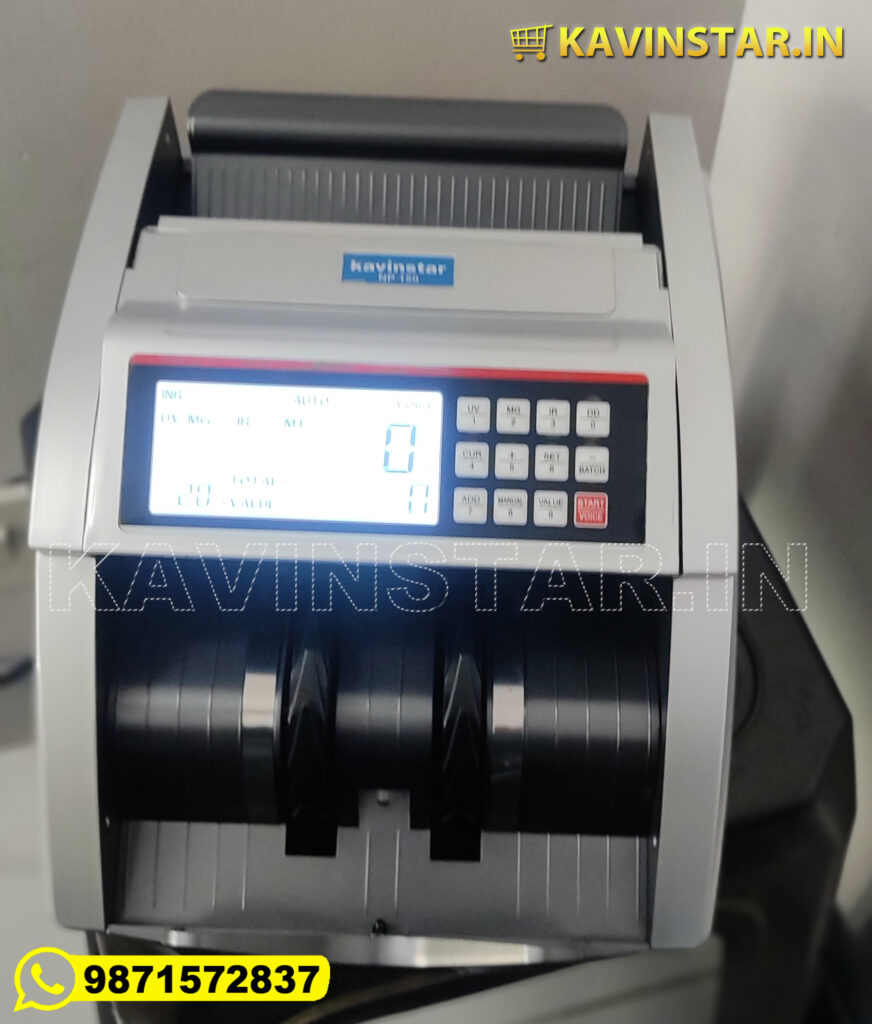 The counting speed of the NP-150 LCD currency counting machine is very fast. It can count up to 1,000 notes per minute without any issues. This machine has an automatic fake note detection feature with UV, MG, and IR sensors for staying on the safer side. These sensors scan the notes and stop immediately upon finding the fake note. After finding any fake note, the machine automatically stops, and the bright LCD display flashes in red color with an alarm for indicating the detection.
For the small business, this is the perfect note counting machine. It comes with a hopper and stacker capacity of 200 notes, which is quite good. This product comes with the auto start and stops function, along with Batch, Add, and Clear features. In short, it's one of the best machines in the market for small and medium businesses.
Features:
Speed – 1,000 Notes Per Minute
Fake Note Detection

Big LCD Display

Auto Start and Stop.
What we Like in This Bill Counter with Counterfeit Detection
Advanced Counting Technology for Speed and Accuracy
Fake, Half, and Double Note Detection with the help of IR, UV, and MG sensors
Color-Coded LCD screen, which Flashes in Red on finding the fake note

Multiple Sorting Features like Add, Batch, and Stack.
Get Best Cash Counting Machine in Noida from Arun Automation.
Apart from this, we advise you to be aware of duplicate brands of the same name. Only choose the products that have claimed to be and have written 'Sold by Arun Automation' on them.
For Bulk Enquiry / Retail Enquiry Please contact (in Hindi) by WhatsApp or Call to Mob. #8587870939 or #9953968896, Tel. #01140230655, Add: 73, DSIDC Complex, Kotla Mubarakpur, New Delhi-110003 (Office Hour 10:00 am to 06:00 pm, Working Days Monday to Saturday, Sunday Closed)
[TheChamp-Sharing]
| Image | Product | Details | Price |
| --- | --- | --- | --- |
| | VC 2108 LED | Automatic Bill Counter with UV, MG Detection | Check Price |
| | NP 150 LCD | Semi Value Bill Counter with UV, MG, IR, MT Detection | Check Price |
| | MIXMASTER | Mix Value Bill Counter with UV, MG, IR, MT Detection | Check Price |