Description
Bank Grade Money Counter Machine Mixed Denomination, Value Counting, Serial Number, Multi Currency, 2CIS/UV/IR/MG/MT Counterfeit Detection, Printer Enabled Bill Value Counter for Small Business
Huge Time Saver: Bill counter machine mixed denomination counts and reports total value, clear breakdown of quantity and value by Denom, and serial number. Besides, supports multi-currency value counting(INDIA
(INR), US DOLLAR (USD), (EURO) EUR, BRITISH POUND (GBP),

AUSTRALIAN DOLLAR

(AUD), CHINA

(

CNY), HONG KONG DOLLAR (HKD),

ARAB DIRHAM (

AED),


NEPALESE RUPEE (

NPR), 

SINGAPORE DOLLAR (

SGD)

. Available to print them all with IMC01-PR. Ideal for small business, gas station, police department, bank
2 CIS Tech: ①Unlike common mixed denomination money counter, IMC01 money counting machine with 2 Contact Image Sensors, detects and reads 2 sides of every counted bill like human eyes. ②The accuracy of value counting is 3 times than 1 CIS machine, no matter brand new, worn, slight ripped and damaged banknote. ③Serial Number Recognition and record for Money Tracking.
Perfect For Business: Money counter machine mixed denomination boosts your efficiency on cash counting job with following functions: Mixed denomination, manual sorting based on first denomination or currency, ADD, BATCH, ADD & BATCH, Auto/Manual counting, PRINT(Need IMC01-PR). Ideal for small business or bank to deal with heavy cash counting job.
Business Guard: Mixed denomination currency counter has 11 counterfeit detection methods to ensure your bills' authenticity. Cash counter mixed denomination saves your effort and keep you a peace mind when you deal with a heavy cash counting work. 2CIS, UV, MG, IR, MT and SN Recognition, effective against Superdollar.
100% Satisfaction: ①The manual sorting function by DIRECTIONAL FACE or ORIENTATION is available now, but you need to find us to update the software. ②Two years quality protection, lifetime software upgraded and maintenance support. ③Available to upload the count data to your computer via serial cable.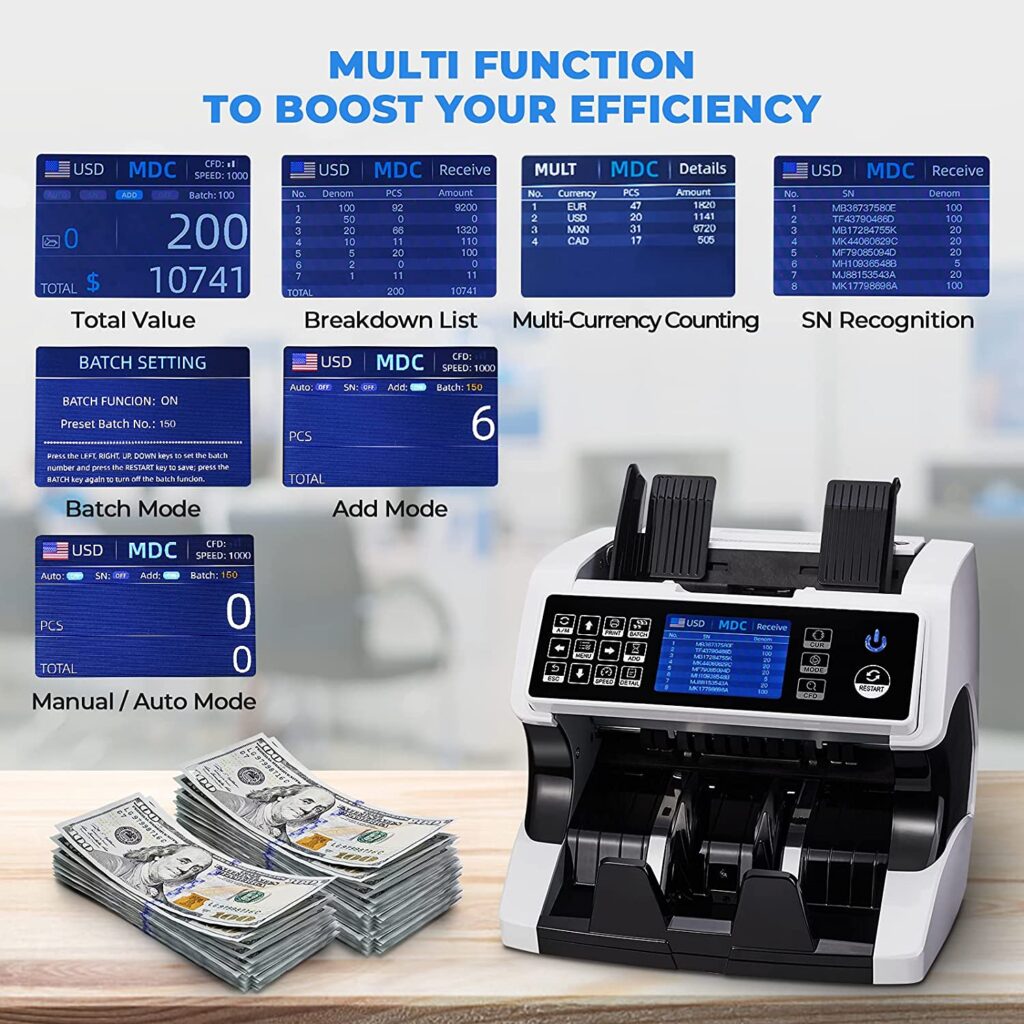 Product description
Total the value of counts counts different currency, and detecting money easier
Kavinstar Mixed Value Bill Counter delivers rapid, error-free sorting and valuation results that save you time and effort when it comes to your cash flow.
Choose between multiple modes as you sort, count, and bundle banknotes in five of the largest world currencies. Engineered for your monetary security with a Best-In-Class built-in counterfeit detection & alert system.
PRODUCT FEATURES:
Mixed Value Counting of Multi Currency
Auto Currency Identification
Auto Mixed Currency Identification
Serial Number Identification
CIS/UV/MG/IR Counterfeit Detection
LCD (TFT) Screen Display
Easy Version Updated Via USB
Kavinstar business-ready version of bill counter determines not just the number but the VALUE of the bills you put through it, eliminating the risk of human error and freeing up your focus for other tasks.
COUNTERFEIT AND FRAUD PROTECTION
Featuring a combination of CIS, ultraviolet, magnetic and infrared technologies that offer the most thorough counterfeit detection and fraud protection on the market.
AUTO CURRENCY IDENTIFICATION
The machine automatically detects the currency of the bills, including mixed currencies at once in the same feed: USD, EUR, GBP, CAD
MULTIPLE HIGH-SPEED COUNTING MODE
Multiple modes let you count the number or the combined number & value:
MDC Mode: 800/1000 bills/minute
SDC Mode: 800/1,000 bills/minute
CNT Mode: 1,500 bills/minute